Today's Daily Devotional from Pastor Andrew Bills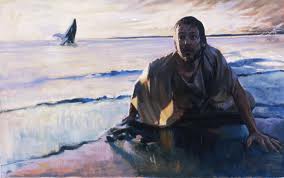 "Will You Allow God To Bring You Out?"
Jonah's deliverance is more than a mere example of God's power being expressed over all the creatures of the earth.  It's a wonderful expression of our Lord hearing the distressful prayers of His children and a demonstration of His mercy and grace to those that trust in Him, regardless  of what you are experiencing.
Jonah 2:10 NIV says, "And the LORD commanded the fish, and it vomited Jonah onto dry land."
Jonah's experience reveals that it doesn't matter how you got where you are, what you have done, how long you have done it, or the severity of the darkness, God has to power to bring you out.
It is time for all people to learn and remember, who is in charge of our circumstances, who is orchestrating behind the scenes and who is working events out for His will and glory.
The Prophet Jonah's rebellious attitude and actions had brought him to a place of low degree.  After being swallowed alive and imprisoned in the belly of this great fish, Jonah prayed and God heard his cries.
Is your experience in the belly of the whale financial hardship?  Is it marital struggles or family division?  Is it an unexpected illness or from an unforeseen tragic accident?  Is it a result of any type of disobedience? 
Repentance, drawing closer to God, surrendering to the leading of The Holy Spirit will always produce have dramatic affects in your life and circumstances.  God then commanded this great creature of the deep and under His Almighty influence, this fish ejected Jonah out onto the dry ground of Nineveh.
All things must yield to His will and word of God, so even this creature of the deep could no longer retain Jonah in its belly.
While Jonah's deliverance is a type of our Lord's resurrection from the dead on the third day, it's a glorious example of God's divine love and power.  If God then brought Jonah up from the belly of the great fish and resurrected His Son from the belly of the grave, why should you think it difficult or impossible for The Lord to bring deliverance to you?
There are NO adverse circumstances, negative situations, painful conditions or damnable demonic attacks that can withstand or resist the authority of God's commands.
Through all of our bad experiences, as we draw closer to The Lord, there are great lessons that we too must learn.  While experience is a teacher, you must not allow it to become your undertaker.   Therefore, call upon The Lord and place your confidence in Him.
Upon Jonah's ejection from his imprisonment  in the vile darkness of the whale's belly, he immediately began to preach and testify of God.  His persuasion, influence, message and exhortation was so great that within 40 days, all Nineveh repented and turned unto The Lord.
What was your experience as you reflect back and remember what God has brought you through?  Is your life currently bearing testimony of the goodness and grace of our Lord Jesus Christ?