Today's Daily Devotional from Pastor Andrew Bills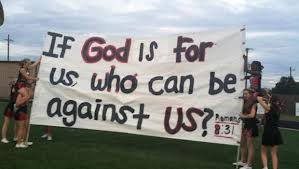 "Will The Real Believers Today, Please Stand Up?'
In a world filled with fake money, phony love, empty promises, folks hopping from one church to another and counterfeit believers, how can people come to know the real thing?
What does it take to stand up in a world that's fallen down?  What characteristics is The Lord looking for in the lives of people that are called by His Name?  Whenever God is looking for a person to use, He examines their heart because your heart is the point of connection to Him.
Besides faith, The Lord is searching for surrender, submission, commitment and determination in the hearts and lives of those that will truly walk with Him and stand on His word.
Have you made the choice between eternal treasures or worldly pleasures?  Have you made the decision to stand up and be counted for God?
An excellent example of this can be found in the book of Daniel.  Daniel 1:8 informs us, "But Daniel purposed in his heart that he would not defile himself with the portion of the king's meat, nor with the wine which he drank: therefore he requested of the prince of the eunuchs that he might not defile himself."
The Babylonian food, it's prior usage in idol worship and it unclean preparation did not conform to the Old Testament teachings.  So knowing that the food and wine were connected with idolatry, forbidden by The Law given to Moses, inconsistent with his principles, against his morals, perilous to his welfare and just plain wrong before God, Daniel purposed in his heart and made up his mind to discipline his body, stand up in faith and not defile himself.
True believers know that we are "in the world but not part of this worldly system."  Daniel may have lived in Babylon, but he took special care to ensure that "the spirit of Babylon" would not take over or control his heart. 
Can the world look at you today and see the difference?  If a believer becomes so worldly, what good is their witness or testimony of God before the unbelievers?
Not willing to  have an attitude of open defiance and provoke harsh opposition, Daniel made a simple but humble request to the jail keeper in charge that he might be permitted for 10 days to eat certain mixed vegetables and drink water. Then be examined after their experiment to see if they appeared healthy and strong as if they had eaten their foods.  And God granted him special favor with the jailor.  Then at the conclusion of the trial period, they were even more healthier and stronger than expected.
When your response is shaped by God's Word and Holy Spirit, you too will begin to experience the grace and favor of God in your midst when you make the decision to stand up in Christ.
Daniel stood out like an oasis in the desert.  Just like Moses, Daniel and his 3 friends chose rather to suffer affliction with the people of God, rather than to enjoy the pleasures of sin for a season.
It's extremely vital for people to understand that those who will honor God under any situation, God in return will wonderfully honor them.
THEREFORE, HAVE FAITH IN GOD!