Today's Daily Devotional from Pastor Andrew Bills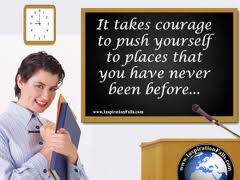 "Why Don't You Rise Up And Do Something That The Enemy Doesn't Expect You To Do?"
A surprise attack before dawn on MAY 10, 1775, gave America one of its first victories of the Revolutionary War.  Ethan Allen, who commanded the Green Mountain Boys of Vermont, captured Fort Ticonderoga on Lake Champlain.  Without suffering the loss of one man, they overran the British stronghold in the early morning, while the British troops were sleeping.
Rushing suddenly upon the enemy, Ethan Allen shouted: "In the Name of the Great Jehovah and the Continental Congress we demand your immediate surrender."  The British surrendered and were sent back to Great Britain.  Then three weeks later, in addressing the Massachusetts Congress, the joyous shout was, "If God be for us, who can be against us?" (Romans 8:31)
Amazing things can and will happen in our lives when we start looking to Jesus, trusting God, and rising up to go forward in faith.  "The Lord is our refuge and strength, a very present help in the time of trouble."  (Psalms 46:1)
Too often, to keep you discouraged and procrastinating, Satan sends forth "the spirit of hopelessness and helplessness" to implant his lying thoughts to your mind to paint a vivid picture of gloom and doom before your eyes.  In speaking to your mind, Satan is trying to convince you "there's absolutely no possible solution or any way out of your situation."
By stealing away your hope today, Satan is trying to rob you of your future.  He knows that if you are experiencing hopelessness by keeping your eyes on yourself, your feelings and your present situation, you will be distracted from following God's plan and purpose for your life.  Satan knows that you are covered by Christ's blood atonement and does not want you to walk in the victory that is yours.  He is working overtime giving you pictures of mental defeat, financial destruction and a hopeless future. However, remember he IS a defeated foe!
God wants you to realize that the only situation that's hopeless belongs to the Devil.  He is the defeated one, the liar, the deceiver, the thief, the manipulator, the destroyer, and might I add, "The loser!"  Satan's unchangeable destiny is to be cast into The Lake of Fire!  Even NOW we, as believers, are given authority over him in Jesus' name!  He is UNDER our feet!   So, how can the devil mess with your mind about your future, when Christ has already predicted and announced his?
Remember, whenever your outlook is not looking so good, "Try Looking UP!"  Depression is not a stage you go through, "IT IS AN ATTACK!"   Discouragement and depression can lead to a physical and spiritual breakdown.  It will immobilize you through frustrations and fatigue, and cause fear and bitterness.  It will have draining, damaging and paralyzing effects.  If you allow it to happen, your enthusiasm will dry up, and your conversation will become sour as you become dazed and engulfed in self-pity and grief.  However, The Holy Spirit of God has called you to be "more than a conqueror" through our Lord and Savior, Jesus Christ. (Romans 8:37)
Realize that you will completely surprise and anger the devil when you rise up in faith in the name of Jesus Christ and remind Satan of his place.  Satan knows the power within you, but does not expect that you know it, or will use it!
NO!  Satan thinks that you believe the thoughts he has implanted that tell you that you are defeated and finished. Therefore no matter how beat up or drained you might be feeling, realize that it's time for you to fight back, stand up against those negative thoughts, and rise above circumstances, by praising God.  Know that you are NOT alone!
Stand on God's Word, get before His Presence, learn who you are in Christ, be filled with His Holy Spirit and step out in faith!  Then you'll find significance and value, break the bonds of demonic influence, overcome discouragement and depression, and break free from the stress, grief, anxiety and guilt that have been holding you prisoner.
Go join that prayer group and start interceding for others. Move out from your comfort zone and start sharing Christ with others in your community.  Start giving with a cheerful heart to your church or ministry and support of others.  Rise up and offend and attack the forces of darkness by doing whatsoever God has placed in your heart to do.
God has called you unto Himself, placed His Spirit inside of you, and now desires to work in you, through you, by you and with you.
THEREFORE, HAVE FAITH IN GOD!