Today's Daily Devotional From Pastor Andrew Bills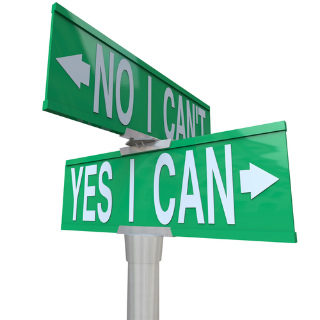 "Who Told You That You Can't When You Can?"
Philippians 4:13 NASB says,
"I can do all things through Him who strengthens me.."
With confidence in God's word and the help of The Holy Spirit, you can bear up under any trial, perform any duty, resist any temptation, pierce through any darkness, overcome any evil, start any dream and accomplish any goals that Christ has placed in your heart.
So, who told you that you can't when you can!!!
You're not too old to learn something new or not to young to serve The Lord.   He is the arm that we must lean on and the strength that we must trust in.  He alone is our way of escape through the wilderness journey, the only one that can restore that which has been devoured and our only hope towards victory.
"Yes You Can" for Christ will enable you to begin, conduct and perform all things by having faith and relying on Him.
This is one of the most memorized and quoted verses throughout the Bible, but do you really believe it?  Don't doubt God in your heart for God still uses the "foolish things in the world to confound the wise and the weak things to confound the mighty."  (1 Corinthians 1:27)
Even though The Apostle Paul was imprisoned, he wrote this passage of scripture because he knew that The Holy Spirit is almighty and has unrestricted, supernatural and divine authoritative power.
So even while incarcerated, He continued to take care of the churches and to preach the gospel, while bearing afflictions and persecutions. Through the presence of The Holy Spirit, he endured continual slander, cruel  and torturing opposition all for the sake of Christ.   Not in his own strength, for even Paul was aware of his own weaknesses, but in his reliance upon the Spirit of God.
It is only through our spiritual union in Christ Jesus that we are made sufficient.  Through His Word and Holy Spirit, believers are strengthened, unrestricted, enabled and empowered to face and press forward despite the challenges, lack or hindrances.
Consider the other original Apostles and early Church saints, who without the benefits of our modern technology  or transportation, took the gospel of Christ to the world.  No telegraph, telephone, automobiles, jet airplanes or no comfortable ocean liners.   No computers, internet, printing presses, comfortable hotel suites and no credit cards.
Without any of our modern conveniences, while under great persecution and other horrific opposition, they took the message to the world, shaking towns, villages regions and nations with the message of the resurrection of Jesus Christ.
How much more are we enabled, with the help of The Holy Spirit of God, to achieve a dream or accomplish a desired goal?
What a privilege it is to be a Christian!  To know and have God as our "Unchanging Father and Friend" in these rapidly changing and very tough times.
THEREFORE, HAVE FAITH IN GOD!