Today's Daily Devotional from Pastor Andrew Bills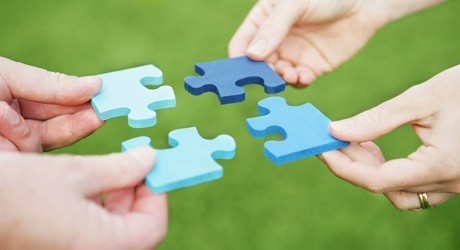 "When Will All The Pieces Come Together?"
A Sign, vision, revelation or some kind of assurance is what many want during times of uncertainty.  I once was told by a person, "I don't want just a piece of the puzzle, I want to know and see the whole plan."  But, if there's anything the Bible teaches believers, it's that "The Just Shall Walk And Live By Faith."
Jacob had just been informed that his son Joseph was alive and in charge of Egypt, sitting on the right hand of the Pharaoh and that he and all of his family were being summoned to go.  But Jacob after hearing all of this news, was very troubled and perplexed.
Genesis 46: 2-4 NIV says, "And God spoke to Israel in a vision at night and said, "Jacob! Jacob!" "Here I am," he replied. "I am God, the God of your father," he said. "Do not be afraid to go down to Egypt, for I will make you into a great nation there. I will go down to Egypt with you, and I will surely bring you back again. And Joseph's own hand will close your eyes."
Jacob was troubled about going to Egypt for various reasons:  1) How could his son be alive after all these years and was this real?    2) Jacob remember that going to Egypt only resulted in troubles from Abraham when he ventured there. (Genesis 12: 14-20).  Earlier his own father Isaac was forbidden to go there by God. (Genesis 26:2).  Finally, he remembered the prophesy given by God to Abraham, that Egypt would become a place of great suffering and servitude for his descendants.  (Genesis 15:13).   5) Jacob feared that going to Egypt might be too great of a journey for him in his old age, or that some evil may overtake them on this trip.  6) He also was troubled that Egypt was a land filled with idolatry and once there his people may forget about the promised land of Canaan and forsake the worship of the true and living God.
Jacob was so apprehensive about going down to Egypt, that God spoke words of comfort, giving him direction to go with the assurance not to be afraid because He was with him.
God assured Jacob that He wasn't a "local deity" just over Canaan, but He was God over all the earth, all knowing and that all the future events are in His hand.
God's words silenced all of Jacob's concerns and fears, but the question now is: "Does His Words And Promises Have The Same Effect On You?"
When believers are facing adversities, uncertainties, hard times and even painful conditions, we need to remember that God is "Our All Sufficient Protector."
Over 150 times under various stressful or impossible circumstances, God spoke to His people to "Fear Not Because I AM With You." 
Today, as you trust in the grace of Christ Jesus and the power of God, you are NOT trusting in something brand new that just happened yesterday.  God has a lengthy and faithful history of saving, healing, delivering, protecting and providing for His people.  As you stand in His presence, his mercies are new and exciting each and every day.
As you daily walk and live by trusting Christ, the pieces of your life will begin to appear more clearly.  You will learn to take each mountain, one step at a time.  You will begin to visualize your difficult spots becoming your stepping-stones.
So, cast away the doubts from the enemy that try to persuade you differently.  Look to Christ, obey His Word, follow The Holy Spirit and declare victory over your circumstances through faith in God. 
Believe him for your daily bread, daily strength and insight and wisdom through the difficult situations.  His promises are still more than true towards us today.  He still reveals Himself at the point of your need and knows just how to encourage your heart.
His words are still a "FACT" regardless of what you're encountering or the skepticism that you're hearing or the criticism that you're experiencing.  God's words and promises are very true and The Holy Spirit of God will lead and direct you as you continually look to Jesus Christ.
THEREFORE, HAVE FAITH IN GOD!