Today's Daily Devotional from Pastor Andrew Bills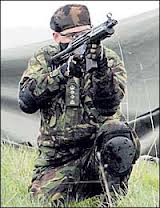 "When The Thief Comes, Will He Find You Armed & Dangerous?"
In these days of terrorist, senseless, cowardly, demonic, and organized antichrist attacks from evil and soul-less individuals or groups, you must become prepared for the battle.  But first realize that your security and strength will not come in the form of new gun control laws or legislation, but in the power of God.
Jesus has alerted us that a sinister killer is on the prowl behind the scenes and is going for the jugular vein to deliver knockout blows from which he doesn't want you to ever recover from.  And usually this battlefield location first is an unprecedented attack starting in the mind.
In John 10:10, Jesus said that "The thief (the devil) comes to steal, kill, and to destroy, but I AM come that you might have Life, and that they might have it more abundantly."
Now, while the devil's diabolical devices or schemes are not new today, his ungodly strategy is to choke out the 3 abiding essentials in the life of every believer, which are Faith, Hope, and Love.  And you need all 3 of these to survive and press on through the storms of life towards victory in Christ.
First, Satan attacks Faith by attempting to make you skeptical.  Then he attacks hope by working to make you cynical.  Finally, he attacks love by trying to make you critical.  Satan's most used tools for attacking our minds are: Delays, Distractions, and Discouragements.  So whenever you're being bombarded and overwhelmed by any of these diabolical devices, you can find comfort and strength by standing on God's Living Word, in the power of His Holy Spirit, and through creating an atmosphere of glorious praise.
Despite sickness, financial hard times, abusiveness, family division, or any other type of spiritual warfare, when Satan begins to move in for the kill, don't be too quick to wave a white flag of surrender because God is still a very present help in the times of struggle and need.
As a believer you must realize that you are the most vulnerable or susceptible whenever you are discouraged.  So, do you know who your antidote is?  
Jesus Christ!  You must get back into His presence and learn how to encourage yourself in The Lord.  Begin to shore up your faith in God's Word and then allow The Holy Spirit to uncap new reservoirs within you.
Then, according to Ephesians Chapter 6, put on the whole armor of God and rise up to start living again. Step out in the authority of Jesus Christ and work to restrain or prevent evil from claiming supremacy over your life.  Show proof that His love and grace still abides today and that you will not take down or be overcome, but will continue to stand in Christ Jesus.
Romans 12:21 says, "Do not be overcome by evil, but overcome evil with good."   We must not allow ourselves to become vanquished, subdued, or defeated by the actions of any evil, unbalanced, drug-addicted, confused, or rebellious person.
As we continue to stand against all evil activity and opposition in our society and world, we must not step down to the level of any ungodly circumstance, abandon our principles of faith or Christian values, nullify our prayers or forget about God's future judgment and His Eternal Plan.
THEREFORE, HAVE FAITH IN GOD!