Today's Daily Devotional from Pastor Andrew Bills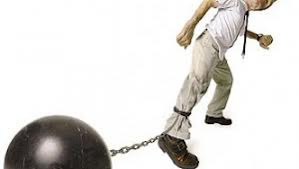 "What's Holding You Back From Making Yourself Completely Available To God?"
Has God called you to do something but you make excuses and continue to procrastinate?  Why are so many people afraid to step out in faith and do God's Will?  Fear of the unknown, doubt, and unbelief are the major challenges in the minds of many believers.  We as human beings always like to "play it safe"and want to know everything in advance and want God to move miraculously first before stepping out in faith.
I too had once struggled in this area as God had called me to full-time ministry.  I had a very good job with lots of responsibility, but was working 6 and often 7 days a week doing 15 -16 hours each day.  Doing God's will was always in my heart and mind, but I continued to procrastinate, making excuses, until one day I just couldn't take it any longer.  Then after crying aloud in the building and fully surrendering to The Lord, The Holy Spirit spoke strongly to my heart and said, "Believe my Word and don't doubt in your heart!" And I left that job and I've never looked back. 
I encountered many naysayers along the way, but the blessings and grace of God were greater as I now continue to preach and teach the Word of God.
There are so many believers that have a burning passion to do something for the Lord or have a call to preach the Gospel globally, but they are afraid to step out in faith because of their job, their "benefits," and they are more worried about how their bills (car note, cell phone, rent/mortgage, insurance, light bill, water bill, etc.) are going to get paid rather than learning how to fully yield themselves to Christ and trust Him to supply all their needs according to His riches in glory.
If you are passionate about winning souls for God's kingdom, then stop worrying about how your bills will get paid and just start following Christ and pray for God's will and direction for your life.   Then pray about your finances, since it's usually the area that most people struggle with.
When you make Christ your priority and make yourself available for God to use, you will be surprised and amazed at what He will do in you, through you, by you, and with you.
In Luke 9: 57-62 we are given the story of 3 different individuals that Jesus dealt with regarding following Him.
Luke 9: 57-58 NIV says, "As they were walking along the road, a man said to him, 'I will follow you wherever you go.' Jesus replied, 'Foxes have dens and birds have nests, but the Son of Man has no place to lay his head.'"
This particular man was a Scribe, who was a teacher of the Law.  It was clearly evident that Christ saw that his motivation was to acquire worldly gain and build his reputation, so Jesus tested his sincerity by informing him of the hardships that surrounded him, and it appears that he wasn't heard from again.
Then Luke 9:59-60 NIV says, "He said to another man, 'Follow me.' But he replied, 'Lord, first let me go and bury my father.' Jesus said to him, 'Let the dead bury their own dead, but you go and proclaim the kingdom of God.'"
Are you willing to follow The Lord even while going through the most trying circumstances?  This man sought for a delay.  Procrastination!  Jesus wasn't against burying the dead.  If this man really believed, he would've asked Christ to heal or raise his father from the dead.
Jesus knew that if he returned back home, his friends might ridicule, oppose him, or present arguments that would prevent him from following Him. 
Jesus taught that nothing should be allowed to divert the mind and be used as an excuse for not following him.  Not even the death of a father and the sorrows of an afflicted family should be used to keep a person following Christ or to put off the purpose for becoming a Christian.
Our Lord was not speaking disrespectfully of or against burying the dead, but that it would be more advantageous for those who were spiritually dead to handle the last rites and that he should be more concerned about following Him.  Since there were enough of his relatives there to take care of handling that burial, Jesus was revealing to him that there was no need why he should neglect the ministry of the gospel and attend to that affair.
Finally Luke 9: 61-62 NIV says, "Still another said, 'I will follow you, Lord; but first let me go back and say goodbye to my family.' Jesus replied, 'No one who puts a hand to the plow and looks back is fit for service in the kingdom of God.'"
Here is another who is willing to follow Christ, but he first must have a little time to talk with his friends about it and take time to set his household in order.
Again, when you make Christ your priority and make yourself available for God to use, you'll be surprised and amazed at what He will do in you, through you, by you, and with you in the mighty name of Jesus Christ, our Lord.
THEREFORE, HAVE FAITH IN GOD!