Today's Daily Devotional from Pastor Andrew Bills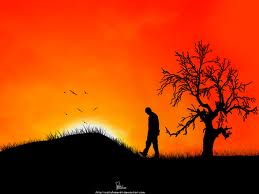 "What Should You Do If God Seems Silent Or Absent?"
Does it seem as if God has packed up, moved far away, and left no forwarding address for you?   Are you going through a painful situation and you are not sensing His presence, promptings or hearing His voice?  Have you been praying to The Lord and all that you're getting back is "silence?"
I recently read in a newsletter the following words, "When you are going through something hard and wonder where God is remember, the teacher is always quiet during the test."  
While that's a cute and humorous saying, the truth of the matter is that many people believe "silence is painful when it comes to God in our lives."  For it often leaves a person confused, agonizing with uncertainties entering into their minds and even wondering if God has completely abandoned them.
In 1st Kings Chapter 19, we read the story of the mighty Prophet Elijah.  He had just been used by God to perform a great miracle which resulted with the destruction of 450 false prophets of Baal on Mt. Carmel.  But afterwards, when he received word that the wicked Queen Jezebel wanted to destroy his life, he fled away.  For he had complained about how he was being treated and began to think that God had now abandoned him by being silent.
Then in 1st Kings 19:10 NIV, Elijah cries out in sheer anguish, "I have been very zealous for the LORD God Almighty. The Israelites have rejected your covenant, torn down your altars, and put your prophets to death with the sword. I am the only one left, and now they are trying to kill me too."
We see in this passage of Scripture that Elijah's concerns were not true.  Elijah thought God was silent and that he was the only one left standing for The Lord. God, who is never silent, revealed to Elijah that He had an army waiting in the wings, ensuring Elijah that he was not alone.   In 1st Kings 19:18 God informed him "Yet I have left me seven thousand in Israel, all the knees which have not bowed unto Baal, and every mouth which hath not kissed him."
God is NOT indifferent to the needs or the dangers that face His Children. He is always mindful of the tears and cries of His people.
If you're not sensing or hearing God's voice in your life, then the very first thing you must do is to examine your heart and make sure that the following sins are NOT in your life:
That you are not harboring secret sins, that you are not filled with anger, that you are not full of unbelief, and that you are not carrying grudges or walking in unforgiveness.   That you are not living a rebellious lifestyle or not following a rebellious spirit, that you don't have the wrong image or portrait of God,  or that you're not too busy to spend intimate quality time in God's Word.
But, if you ARE living a prayer-less life instead of a prayerful life and if your love for the world is still greater than your love for God, then know that it's time to repent and make changes in your heart.
Whenever it may appear that God is silent, HE NEVER IS.  What may look like silence or inactivity is just Our Lord working things out both inside of us and orchestrating in our affairs.  He's then allowing you the opportunity and privilege to draw closer to Him and listen to "the still small voice" of The Holy Spirit.  Then you will receive a fresh revelation of His Love, Grace and Power as you STAND ON HIS WORD.
As you're standing, don't panic and be moved by what you see.  Standing is your statement of faith, even if you're still under pressure that you believe God's Word.  Standing means that you've set yourself to hold fast to the Word and Promises of God with the confidence that He will do what He said He would in His Word.
Yes, there's always going to be times where we as believers will have to STAND IN FAITH, WALK IN OBEDIENCE AND ENDURE HARDSHIPS as we wait on The Lord. But rest in the assurance of His gracious promise, as declared in Hebrews 13:5, where He promised "I'll never leave you nor forsake you."
THEREFORE, HAVE FAITH IN GOD!