Today's Daily Devotional from Pastor Andrew Bills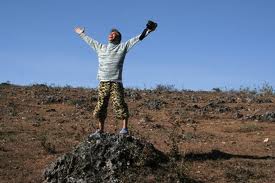 "What Does It Mean To Be Kept From Dangers Seen And Unseen?"
I quickly turned around as I heard the tip of the gun barrel as it rested on the car window as it was being aimed straight at me……
I was a street evangelist and a working pastor of a small church in the Compton, Watts and inner city of South Central Los Angeles, California.  During those years I had many different experiences in my ministry and life as I took God's word and the gospel of Jesus Christ into the streets and various homes in that community.
I awoke early that morning, as usual with God's praises softly being sung from my lips, not trying to awake my sleeping family, as I prepared for work.  As I locked my front door, I took the long walk down my driveway to my pick-up truck parked out on the street.
It was a dark but very quiet 5 am morning and as usual I kept an open eye on all my surroundings.  All seemed perfectly calm and peaceful as I continued singing praises to The Lord as began to unlock my truck.
Just as I put my key into the door to unlock it, I suddenly heard the sound of something metal tap on glass and I quickly turned around to see the tip of a gun resting on a slightly lowered, dark tinted window of a car being driven without the headlights on.
Quickly elevating both my arms and hands, I immediately shouted, "Wait, wait, I'm an older man with little children and I'm on my way to work!"   My red coat being opened because of my elevated arms revealed my job uniform shirt and my I.D. Badge dangling from my shirt collar.
Suddenly,  I heard a few voices whispering in the darkened car, then one of the unseen persons said, "Alright old dude, get rid of that coat!"   With that the gun disappeared and, just like they had came, they quickly sped off into the darkness of the night. 
Even though Satan was out to destroy someone that morning through a cowardly drive-by shooting, evidently the color of my coat drew attention to me as it represented the color of a rival gang.
While I had previous encounters dealing with gang activity, street violence and other types of hostility and demonic activity, this was totally different.  For like an unforeseen tragic car accident or an unexpected life threatening sickness or disease, I DIDN'T SEE IT COMING.
Immediately, The Holy Spirit brought to my remembrance  the insightful words found in 1 Peter 1:5-7 NLT , "And through your faith, God is protecting you by his power until you receive this salvation, which is ready to be revealed on the last day for all to see. So be truly glad. There is wonderful joy ahead, even though you have to endure many trials for a little while. These trials will show that your faith is genuine. It is being tested as fire tests and purifies gold–though your faith is far more precious than mere gold. So when your faith remains strong through many trials, it will bring you much praise and glory and honor on the day when Jesus Christ is revealed to the whole world."
I had been kept by the power of God from both dangers seen and unseen.  The ones seen are bad enough, so we can't even begin to imagine the unseen warfare going on in the spirit realm all around us.
As Satan and the forces of darkness organize and attempt to set up bad or negative situations, temptations, pitfalls, ungodly plots, wicked entrapments and demonic activity, it's vitally important to remember who we are in Christ and the awesome power of praise.
Do you believe in guardian angels? Do you in God's Divine Intervention and Protection?  Do you believe in the awesome presence, power, grace and the Almighty Prevailing Hand of God?
The sweet smelling aroma of true worshipping praise ascending up into the throne room of God can break yokes, destroy demonic set-ups, become bridges of troubled waters and give victory through the storms of life. 
So regardless of whether the dangers are visibly seen or unseen, walk in the Spirit and lift your voices up before the Lord Jesus Christ and continually give Him the highest praise.  Then you too will realize that you're being kept by His Grace and Power for His purpose.
THEREFORE, HAVE FAITH IN GOD!