Today's Daily Devotional from Pastor Andrew Bills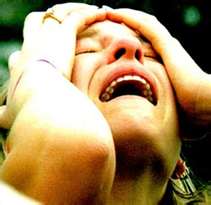 "What Do You Do When Things Don't Go According To Plan?"
How do you handle disappointments in your life? What do you do when discouraging events occur and try to distract you away from where you want to go or keep you from doing what you want to do?
While we often can't choose what happens to us in life, we can choose "The Attitude" that we'll take towards the things that will happen.
You and I can see this kind of sorrowful attitude in Luke's account of the two disciples whom The Resurrected Jesus encountered on the road to Emmaus. Unable to recognize their risen Lord, these two disciples expressed their broken heartedness and great disappointment with this "sudden stranger" regarding their shock and misery of how their hopes were all dashed when their Messiah was taken and crucified.
In Luke 24:18-21 NIV says, "One of them, named Cleopas, asked him, "Are you the only one visiting Jerusalem who does not know the things that have happened there in these days?" "What things?" he asked. "About Jesus of Nazareth," they replied. "He was a prophet, powerful in word and deed before God and all the people. The chief priests and our rulers handed him over to be sentenced to death, and they crucified him; but we had hoped that he was the one who was going to redeem Israel. And what is more, it is the third day since all this took place."
While this appearance of Christ to the two disciples going to Emmaus, happened the same day that he rose from the dead, they didn't know that Christ was alive even though He was walking right with them because they were distracted by their disappointment, blinded by their sorrow and walking in unbelief. And when you become so disappointed in life, sometimes it's too hard for you to even recognize Jesus in your very midst.
Their minds were so confused and distracted that it appears as if the more they talked about it, the more perplexed and disappointed they became.
There are those that become so overwhelmed with disappointment, hurt, misery and grief, that they begin to live as if Jesus never came out of that tomb.
Marriage troubles, family division, job layoffs, unexpected illness, unforeseen tragedy, financial hardships…. These are things that should lead or drive us closer to Christ and not further away. CHRIST IS THE ANSWER, not the problem! He's our solution through the wilderness, not the author of our pains. In the worst of times, when it seems that all hope is gone, there's still God's Grace that you can count on.
Suddenly Christ began to preach The Word unto them, starting with Moses and the Old Testament Prophets. Then the Word began to burn in their hearts and open their eyes after they sat down to eat bread with the one they initially believed to be a stranger. Suddenly, they realized it was Jesus Christ!
There is a "blood stained scarlet thread" that runs throughout the entire Old Testament that ends at the cross and resurrection of Jesus Christ. But, all of His Promises are all still in effect even today.
My friends, when life delivers you a staggering blow, to the Word and Spirit of God you MUST go! Run to The Word, do not walk. RUN!!! For it's there and only there that you'll find God's Grace and The Holy Spirit of God ready to receive, comfort, enable, deliver and guide you.
THEREFORE, HAVE FAITH IN GOD!