Today's Daily Devotional from Pastor Andrew Bills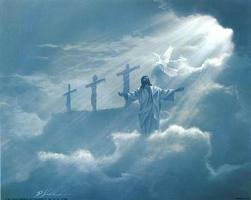 "There's A Man In Glory, But Have You Lost Sight Of Him"?
In Acts 17:32 the Word of God says, "When they heard about the resurrection of the dead, some of them sneered, but others said, "We want to hear you again on this subject."
The Apostle Paul, in his sermon on Mars' Hill in Athens, hadn't finished his message when upon hearing about the resurrection, the assembly instantly broke up.  The doctrine of the resurrection from the dead was not believed by the Greeks because it seemed too incredible and absurd to their minds.  Others mocked it's preaching even with sneers, despising his words
The Lord Jesus Christ having arisen after being put to death and buried was a clear demonstration of the miraculous love, faithfulness, power, grace, truth and authority of God over all things that exist or were created.  
Jesus died for your sins, he rose again for your justification, gives eternal life to those that believe in Him.  And through His Word and Holy Spirit, though invisible, He's mightily at work in and throughout our constant affairs.
While many church-goers today don't verbally deny the resurrection, their lives don't exemplify a solid, healthy or living relationship with The Risen Savior.  
Some live as though they've wandered away from the faith or are out of His view.  Others believe and are teaching things that are false and only follow certain principles for material or personal gain.
Many seminaries, motion pictures about Christ, church pastors and TV evangelists no longer even emphasize His Resurrection or its importance.
While the crucifixion of Jesus is the world's most historic event, you must realize that the resurrection of Christ from the dead is the world's most encouraging and thrilling event that has ever happened in the history of all mankind.
Because He Lives, We Also Shall Live Again….  
Do You Believe This And Are You Looking Forward To His Coming?