Today's Daily Devotional from Pastor Andrew Bills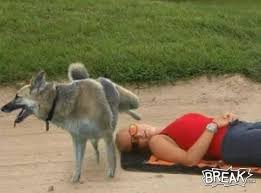 "Is There Any Such Thing As Being In The Wrong Place At The Wrong Time?"
Suddenly, I was hit from behind by a young drunk driver as I was stopped at a red light this past Saturday morning while driving to my office.  It was 5:30 AM, still dark and very quiet, when I suddenly felt the impact.
I had been praising The Lord in song and worshiping up to that point, when I suddenly felt the impact of her vehicle from the rear.
As I slowly got out and walked to her car, I asked for her license and registration.  While she was heavily intoxicated, she kept murmuring, tried to argue and refused to comply.  As I quickly wrote down her front license plate number and dialed 911 to inform the police, she immediately sped off rapidly into the darkness, running the red light.
Within 2 minutes several police arrived and I informed them of her condition saying, "She's either going to hit someone else or hurt herself."    So, I quickly prayed and asked God to stop her from hurting any other people.
After completing police report, I left the scene and finally arrived at my office 10 minutes later.  The very moment I sat down at my desk, my telephone rang.  It was the police!  There had been another accident about a mile down the same street with the same young drunk driver and they asked me to come and identify her.
As I arrived at the scene, I observed that her car had been totally demolished.  Several police cars were at the scene and had blocked off the street because she had struck a light pole at a high rate of speed.  Amazingly, she appeared unhurt as the police officers were giving her different sobriety tests, which she all failed.
After providing a positive identification, giving a recorded statement and getting more documentation, I returned back to my office.  Still in shock about all of the early morning events, the damage to my car and the soreness I feeling, once again I began to converse with The Lord.
Unforeseen occurrences, tragic experiences, bad decisions, comical accidents,  bad luck, fate or negative chance encounters have all been explained in this world, in the natural, as "Being in the wrong place at the wrong time."
In John 16:33 NASB,  Jesus said, "These things I have spoken to you, so that in Me you may have peace. In the world you have tribulation, but take courage; I have overcome the world."
While this world is filled with forces of darkness, misery, untold suffering and all other types of ungodly activity, as believers we still have "The favor of God in our lives."
Though we as believers are exposed to a variety of calamities in this world,  I am fully convinced that nothing ever happens to us in this world that "catches God off guard."
In Job 13:15, Job declared, "Though he slay me, yet will I trust in him."   Despite everything that had come against him, Job held on to his testimony.   Without any glimpse or appearance of hope in this world,  Job was yet determined to believe God for His intervention and eternal salvation.
When things come against you and you don't understand why, are your eyes also fixed upon  Him?
I can only give Christ praise!  For in all things I recognize that He alone is my salvation, healer, deliverer, protector and much more. I can only rejoice, despite this incident, because His amazing grace had once again been demonstrated by the wonderful hand of God.