Today's Daily Devotional from Pastor Andrew Bills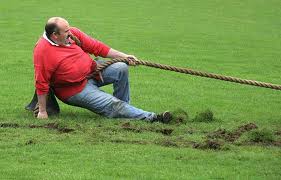 "Is The Way You're Going God's Way?"
Do you ever remember playing a game called, "Tug of War?"  It's a strenuous contest between two sides, in which participants holding opposite ends of a rope try to pull each other across a dividing line into their area or zone.
In their struggle for supremacy, the physical strength, mental will-power and firm resistance of every player is fully engaged, as both teams on opposite sides utilize all their energies and efforts, digging their heels into the ground and screaming their lungs out in the process, just to win.  But, just like in this physical entertaining game, many are tugging, withstanding and struggling spiritually against The Lord for direction and full control over their lives and circumstances.
Are you opposing, resisting or quenching The Lord in your life?  Are you procrastinating by putting off those things that God's calling you to do?  Are you doing whatever you want to do, without the consideration of others around you and despite the dictates from God?
Are you walking in the strength of your mind, exerting your own way, even if it comes to things within your church or religious community?  Are you tugging against The Holy Spirit of God?
In Matthew 9:9 NASB we are given one amazing verse which says, "As Jesus went on from there, He saw a man called Matthew, sitting in the tax collector's booth; and He said to him, "Follow Me!" And he got up and followed Him."
Christ is always calling for an immediate surrender to the will and work of God.  Where there was an invisible void in Matthew's heart,  the power of Christ's Words and the tugging of The Holy Spirit now overwhelmed him, summoned for a reaction and he fully surrendered. 
Never again would he allow his occupation, his infamous ways or his deceptive financial profits detain him after Christ called him.  
Without telling him what work he was going to do, Matthew immediately arose.  Without consulting with flesh and blood, he stood up and followed Jesus.  He left the place where he collected the taxes which were levied by the Roman Officials against the Jews and never again looked back or returned to that place.
God's calling you to surrender everything that's evil, every weight that would hinder your complete commitment, fellowship or service and arise to follow Him.  He's calling you to walk in agreement with Him and be led by His Holy Spirit. 
So, without any further delay, are you ready to surrender and willing to do things God's Way?