Today's Daily Devotional from Pastor Andrew Bills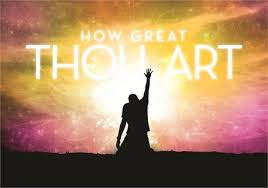 "How Great Is God To You?"
As I laid in the hospital recently and reflected on all of The Lord's previous blessings throughout my life, I sensed this question being asked, "How Great Is God To You?" 
God has a very lengthy history of saving, providing for, healing, comforting, delivering, and blessing those who call on His Name and stand in faith on His Word, by His Grace.  There's nothing you're going through or can ever experience that's greater than God, The Lord Jesus Christ, The Holy Spirit and The Word Of God.
So, if you're praying and believing God in faith, and it doesn't appear as if anything positive or supernatural is happening, and you're having concerns because you're feeling pressure, here's just a little insight to help you towards remaining confident that God will completely move in and orchestrate your affair…
Tell yourself and confess it out loud that not only is my God greater than this crisis, hard time or painful condition, but according to Ephesians 3:20-21,  "God is able to do far more abundantly beyond all that we ask or think, according to the power that works within us, and to Him be the glory in the church and in Christ Jesus to all generations forever and ever. Amen."   
The Apostle Paul concludes his great intercessory prayer with a glorious high note of praise.  Encouraged by what Christ has already done in the hearts of the new converts throughout the world, he then assures them of God's unimaginable grace which is available towards every believer.
God's grace is just so amazing, that His abundance is far beyond our comprehension.  Unlimited, unrestricted and unmeasurable, the grace that moves in our hearts and lives is the direct result of the same power that raised Jesus Christ from the dead.
We are to glorify our risen savior and celebrate the power of God.  If Jesus Christ, by the finger if God could cast out demons and overcome strongholds, The Spirit of God can today move in our lives to such an extent that we cannot begin to even imagine or express.
This is wonderful encouragement to all that are troubled, broken-hearted, experiencing painful conditions, encountering difficulties, facing oppositions, seeking deliverance or just waiting for doors to be opened.
God is more than able to help, comfort, strengthen and support us through any type of adversity.  He is more than enough when you seek His face during any time of need.  His grace is so inexhaustible, that He wants you to step forward, draw closer, touch and extract from Him.
No matter what you're facing or dealing with, His grace must not be limited to your intellect nor His goodness restricted to your senses.  His compassion is greater than our emotional feelings and His capabilities greater than our understanding.
Through Christ in us, God can accomplish more than you could ever conceive.  God has promised so many wonderful spiritual blessings in His Word, which are all predicated on what happened on the cross at Calvary which are all now guaranteed by Christ's Resurrection.
God knows what we want before we ask and he has made provisions for his people before they ask for them.  The greater the need, the greater the grace and He's provided your provision long before you ever encountered the problem you're now facing.   So remember that there's nothing too hard for God to do.
THEREFORE, HAVE FAITH IN GOD!