Today's Daily Devotional from Pastor Andrew Bills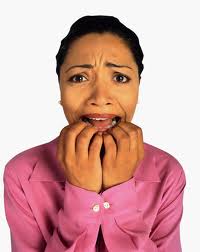 "How Can I Overcome My Fears Through Faith In Jesus Christ?"
 2nd Timothy 1:7 says, "For God hath not given us the spirit of fear; but of power, and of love, and of a sound mind."
Are you praying and believing God in faith and it doesn't appear as if anything spiritual, encouraging, positive or supernatural is happening? Are you experiencing on-going pressures?  Here's a little illustration that will assist you in seeing Satan as "the defeated foe that he is."
When I was 7 years old, my dad built a chicken coop in the back yard and on one particular occasion, he told me to come outside to watch and learn.  So I followed him out into the yard and into the chicken coop.
Once outside, he told me to catch one of the chickens.  In the chicken yard there were several hens, but many more baby chicks.  I ran around trying to catch one of these chickens and boy, could they move fast!  After many attempts and much laughter from my dad, I finally caught one and brought it to him.
Then I asked him, "What do you want me to do with this chick?"  He said, "We're going to ring its neck and have it for dinner."  I laughed because I thought he was joking, but before I knew it, he brutally snapped off the neck of that chicken.  Then, in total shock, I watched as its headless body flopped and moved around all over the place, for what I thought were hours, but in truth was only a few moments.  Then it completely stopped moving and lay still. 
Immediately, I flew into the house and watched from the window terrified.  My father yelled to me, "It's all right, the chick is dead; it can't hurt you!"  And he continued to laugh.   But in my mind (and my mind was the only one that seemed to matter) that chick acted as if it was not only still alive, but mad and even coming after me!  So, I ran and hid.  My dad proceeded to pick it up, then walked away to prepare it for dinner. 
Needless to say, even at dinner, I continued to stare at the chicken.  Even though it was fully cooked, seasoned with gravy, and laying in dressing, I still thought it would move and come after me.  It took time for my mind to become released or freed from its control.  And throughout my years and experiences in ministry, I've discovered that many people today are just like I was in this brief childhood illustration.
They're having difficulties fully realizing that Christ defeated Satan on Calvary and that the Resurrection is the full proof of Christ's Victory and Satan's Defeat.  It was there that Christ snapped the neck of Satan and he was defeated once and for all.  Since then Satan has been put under the feet of all believers through the death, resurrection and ascension of Jesus Christ.
Satan is now like the headless body of that chick that I was afraid of as a young child.  Down through the centuries, people have been controlled by fear, by the movements or the flopping of a headless and defeated foe.  You need to know that the devil only has the power over you that you, as a believer give him through fear and allow Him to have.  
Remember, I ran because I thought he was going to get me… FEAR!  Or even worse, while sitting at the dinner table, it was still through the controlling element of FEAR that I was continuing to be firmly held captive, blinded and paralyzed in my mind. This is our major battleground and we must renew our mind daily in the word of God, which acts as a sword against the wiles of the devil.
Satan will always try to enlarge, magnify and worsen the situation that you're facing.  But, we need to see the devil as "The defeated foe that he is."  Trust in the Lord and take the limits off of God.  Stand firmly on His Promises and Christ will see you through.
THEREFORE, HAVE FAITH IN GOD!