Today's Daily Devotional from Pastor Andrew Bills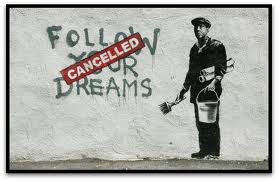 "Have You Ever Had A Dream But Never Acted On It?"
Have you ever had good intentions but never took the first step towards implementing them?  Before your dreams become lost and irretrievable, isn't it time for you to be healed and spiritually refreshed so you can recapture your vision and find greater purpose and fulfilled joy?
Wherever you find yourself in life, there is always room for improvements.  And God is now calling you to go forward because He has something more for you. 
It doesn't matter what you have achieved, accomplished or attained, there's an exciting new challenge ahead for you with new victories to be won.  So you need to be pursuing the dream that God has placed within your heart.
In Deuteronomy 1: 6 & 8, God said to Moses and Israel, "You have stayed at this mountain long enough.  It is time to break camp and move on.  Go…  Look, I Am giving all this land to you."
God spoke to Moses at Mt. Horeb and told him that the nation of Israel had stayed too long at that place and that it was time to arise and move forward.
For one year they sat at the foot of that mountain after their departure from Egypt.  Even though there they had received The Law, made The Tabernacle and they were all numbered and prepared for battle, they had grown used to where they were; perhaps even thinking it was their permanent home.   But God ordered them to move onward because God had something else greater and better in store for them:  "The Promised Land."
Just like the Israelites, too many believers become accustomed to their daily routine or rut.   You have become too use to the place that The Lord only wanted you to pass through, but never to remain at.  He has something far greater, glorious, awesome and more exciting in store for you, so it's now time to arise because you can't get there unless you first leave where you are.
It's time for you to arise and step out in faith and leave the place of certainty for uncertainty.  It's time to launch out into the deep and leave your familiar place or comfort zone, for you have sat where you are too long.
Now Christ has given believers everything that we'll ever need to face every new challenge and spiritual battle on this side of eternity.  All you need to do is to allow The Holy Spirit to direct your path, believe His Word, step out in faith, begin to do the things that you've envisioned, stop making excuses and never look back.
Remember, you'll never achieve unless you fully believe.  And it's God's Will for you to go forward and possess new lands.
THEREFORE, HAVE FAITH IN GOD!