Today's Daily Devotional from Pastor Andrew Bills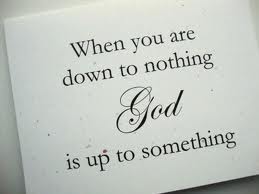 "Don't Lose What You've Got!"
Due to a variety of reasons, so many that have started out walking with God have left their first love (Christ Jesus) by allowing their faith to become shipwrecked through disappointments, temptations, deceptions or lies.
The Apostle John encourages believers to remain vigilant, watchful and stay on course against all the different deceptive attempts to distract and lure the heart's of believers away trusting God.
Trials, tribulations, temptations, sorrows and disappointments are only part of this earthly life but believers must remember that God has a lengthy and faithful history of saving, delivering, healing, protecting and providing for his people no matter what the temptations, obstacles, challenges or impossibilities.
Our Christian faith is solely predicated on what Christ did on Calvary's cross and through His Resurrection from the dead.  As believer's, we are partakers of His Divine Nature because His Spirit resides within us, but we have a responsibility to guard our minds and hearts against Satan and all his devices.
The Apostle John firmly declares in 2 John 1:8 (NLT) which says, "Watch out that you do not lose what we have worked so hard to achieve. Be diligent so that you receive your full reward."
Deceivers come in many different shapes, genders, colors and sizes.  One such deceiver was named Delilah. 
Samson was the 13th judge in Israel and The Spirit of The Lord mightily used him, empowering him with supernatural physical strength.  As long as Samson remained faithful to the vow of not letting a razor cut his hair, God mightily used him to defeat the enemy of Israel.  Samson's power was not his hair, IT WAS THE LORD, but his hair only symbolized his commitment or vow to God.
While Samson had the power to conquer the Philistines, he lacked the power to overcome fleshly temptation, so Satan used Delilah's lap to give Samson a "haircut in the wrong barbershop."  (Read the entire 16th chapter of Judges)
For 1100 pieces of silver from Israel's enemies, Delilah seduced and pressed Samson daily until he exposed his heart and revealed his secret to her.  (Judges 16: 16-17) 
Then in the 20th verse it says, "And The Lord departed from him."  It was not God's will for Samson's mission, calling, career and his efforts to end like they tragically did.
The enemy took him, blinded him, enslaved him, ridiculed him, publicly humiliated him and laughed at God.  Even though The Lord was forgiving and gracious enough to allow Samson's hair to regrow and strength to return for one final victory over the enemy at his death, Samson's story should inspire believers everywhere to "be on your guard and don't throw your confidence away!" 
Don't lose what you've been given and achieved!  Keep you heart secured in Christ and don't allow yourself to become exposed to dangerous people or deceptive devices and methods.
The way to our reward is to abide in God's Word and let the love of Christ Jesus abide in and through us.  Clinging to the Word of God not only keeps you in fellowship with Christ but sets faith ablaze within your heart and allows you to operate in the power of The Holy Spirit.
THEREFORE, HAVE FAITH IN GOD!