Today's Daily Devotional from Pastor Andrew Bills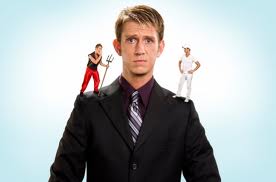 "Does The Devil Really Make You Do It?"
Convicted by his conscious, a well-known newspaper journalist decided to start writing the truth about his next assignment.  He was sent to cover the wedding of a very prominent wealthy rich man's son and published the following newspaper column:  "The groom is a popular young bum who hasn't done a lick of work in his life and while he manages to dress well and keep a supply of spending money, his rich dad is a softhearted old fool who runs around making his son's bad checks good instead of letting him go to jail where he belongs."
"The bride is a skinny, fast little idiot who has been kissed and handled by every boy in town since she was twelve years old, sucks cigarettes in secret and drinks mean corn liquor when she is out joy riding in her dad's car late at night.  While they are expecting their first child in five months, she doesn't even know how to cook, sew or keep house.  While their home was just newly plastered, the groom was more plastered than their walls and the bride wore more fresh paint than the house had on it."
The journalist concluded by telling his readers that he knew this article would be his last day at that job.
While our world has taken immorality and evading personal responsibility to a brand new low depth level, people are continuing to blame their heredity, their environment, their parents, the school system, their employer, the fast food that they've recently eaten, their impoverished upbringing, or try to create an insanity plea and make it seem that the devil made them do itinstead of recognizing, admitting and repenting from their own sinful activities.
Believing and crying out that "the devil made me do it" is crediting Satan with power that he doesn't have, for he cannot make you do anything.  Shifting the blame by telling others that you were held "spellbound or hooked" by the devil's power is a false accusation, because you've always had the power of choice.
But, all attempts to evade one's personal responsibility for their individual actions is NOTHING brand new.  In Genesis 3:12 NIV, after confronting him for eating the forbidden fruit, Adam told God, "The woman you put here with me, she gave me some fruit and I ate it."  Then, when the woman was confronted, she said, "The serpent deceived me and I ate."  (Genesis 3:13). 
Adam was forced to acknowledge his transgression but he does it in a way to shift the blame and lay it upon God and upon the woman.  When the woman is questioned, she lays the blame upon God and the serpent.  She was saying that "the devil made me do it."
Temptation is nothing more than an open invitation or an enticement to commit an immoral, illegal or unrighteous act.  And the devil is raging over the earth as a roaring lion seeking to devour people through these enticements.
Temptation will either come at you gradually, building up as you continue to fantasize or rehearse over it again and again in your mind, or it will come upon you suddenly like a flood, leaving no time for you to run and grab your Bible or find Christian friends around you to hold you up in prayer because it's calling for an immediate decision to be made.
Temptation has been called, "training under combative conditions"and you must find the power NOT to give in and become ensnared by his entrapment. 
Yielding to temptation will lead to sin, sorrow, destructive acts, broken marriages, divided homes, incarceration, financial ruin, great embarrassment, mental anguish, untold misery and even death.
So, What's A Person To Do? "BE PREPARED!" Put on Christ and the whole armor of God so that when temptation comes your way, you'll know how to respond. When Satan tempted Jesus, he used or misquoted scripture to support his suggestions for doing wrong. But, because Jesus was prepared, Christ knew how to respond, and taught us how to respond, and sent the devil packing.
THEREFORE, HAVE FAITH IN GOD!