Today's Daily Devotional from Pastor Andrew Bills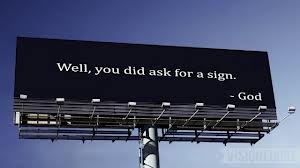 "Does Asking God For A Sign Imply A Lack Of Faith?"
Is it asking for a sign or confirmation evidence of doubt or unbelief in a person's heart?  It appears that Gideon's requests, in Judges Chapters 6 & 7, for signs weren't because God responded to them and according to Hebrews 11:6, God never responses to unbelief. 
The Lord looked down on Israel and once again they had fallen into sin and turned away from The Lord.   With a new generation now on the scene, "the Israelites did evil in the eyes of the Lord."  So by refusing to follow God, God allowed an enemy to rise up against them. 
God allowed the Midianites to afflict, oppose and enslave Israel.  They were unmerciful nomads that invaded the land to ravage it.  They plundered the land, caused great destruction and made life unbearable for the nation of Israel.  In order for the Israelites to survive, they fled and hid in mountain clefts, caves and strongholds and there they began to call on the name of The Lord and God began to go to work on a man who would become Israel's answer to prayer.
The Angel of The Lord came and personally appeared to Gideon, who was actually hiding and trying to cover up what he was doing in a winepress.  Then The Lord greeted him by saying, "The Lord is with you, mighty man of valor."  
Now from every natural standpoint, Gideon did not appear to be a deliverer, a judge, a strong man of any quality to lead Israel into victory.  It was quite the contrary.  Gideon was a weak man, full of doubt and fear, living in a pagan home, which had ceased looking to God and was now filled with idolatry. 
But God came into his situation and began to move in his life, calling him by name and then referring to him as  "a man of great valor."  God saw in him what he couldn't see in himself.
While Gideon's response began to imply reasons why he felt that he wasn't suited for this leadership role, The Angel of The Lord told him that he was because, "I will be with you."  God's presence is more than enough and makes all the difference in any task, position, or work than we are called to do. 
Gideon was full of doubt, skepticism, he was weak, he was afraid.   He didn't understand the direction from the Lord on how God was leading him.  So out of uncertainty, Gideon then asked for a sign as proof to substantiate this calling and The Lord condescended to his request.
Finally, it appears that after the all the supernatural signs and evidence from God that Gideon finally realized the supremacy of the one that had been speaking to him and it strengthened his heart.
While the Bible has many different historical accounts of miraculous signs, when a person's heart revealed that they were earnest, God chose to use them to reveal Himself and His Will in different ways.  When a person's heart was wrong, demanding a sign was always refused by our Lord because of their wickedness.
Now while signs are not essential, God requires us to trust Him without any outward or physical evidence other than placing faith in His Word.  But whenever The Lord deems it necessary to use signs as a means of confirmation or encouragement, He will do what's necessary to make an impact upon the heart and mind of that individual.
Now it's important to also know that not all signs are from The Lord.  Just as Pharaoh's magicians were able to duplicate some of the miracles of Moses in Exodus 7: 20-22, some workers of iniquity are able to produce counterfeit signs today.  Many have been known to try and produce and manipulate signs to prove their anointing or suit their own selfish wishes. 
So believers must study God's Word, learn to depend upon The Holy Spirit of God for the gift of discerning of spirits, see if it glorifies The Lord Jesus Christ and remain steadfast in the faith.
We must learn and remember that signs are only used to confirm God's Word and His Will in our lives.  We are only to be led or guided by The Holy Spirit, who uses  God's Word as the light to direct our pathway and footsteps.
Signs are only a gift of God's grace as He deems necessary but they lack the power to transform the human heart.  Only God's Word, being used by our Lord can do that.
So instead of pursing signs, seek Christ Jesus.  Whatever dream, vision or supernatural confirmation that He thinks you might need to assist you, will come only as The Holy Spirit wills.
So devote yourself to The Word of God, get in God's presence, listen to The Holy Spirit and in all your ways acknowledge Him and He shall direct your path.
THEREFORE, HAVE FAITH IN GOD!