Today's Daily Devotional from Pastor Andrew Bills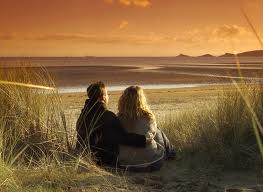 "Do You Realize How Much You Mean To Our Heavenly Father?"
Throughout Christianity, "GRACE" has been defined as "God's free, unmerited and undeserved favor," which is expressed in the salvation of sinners,  the imparting of spiritual gifts and the conferring of blessings upon the life of a believer.
Because GOD IS LOVE, He bestows MERCY which demonstrates GRACE.  He grants to us what we don't deserve and then removes from us the consequences which we truly do.  An excellent picture of this can be found in 2 Samuel chapter 9 which illustrates what believers mean to God and what He does for us.
2 Samuel 9: 6-8 NIV Says, "When Mephibosheth son of Jonathan, the son of Saul, came to David, he bowed down to pay him honor. David said, "Mephibosheth!" "At your service," he replied.  "Don't be afraid," David said to him, "for I will surely show you kindness for the sake of your father Jonathan. I will restore to you all the land that belonged to your grandfather Saul, and you will always eat at my table."  Mephibosheth bowed down and said, "What is your servant, that you should notice a dead dog like me?"
Earlier, David had entered into a covenant with Jonathan that he would show unfailing kindness to him, or to his family if he were killed in battle, when he became king.  The word "kindness," which is used several times in this chapter reveals "GRACE" or unmerited favor.
After David defeated his enemies and established his kingdom, his soul remembered Jonathan.  So he inquired if Jonathan had a son.  Mephibosheth was only five years old at the time of his father's death and suffered a permanent injury as his nurse tried to hide him while attempting to protect him from any danger or attack. (Read 2 Samuel 4:4)
David was in exile during Jonathan's death and had never seen his son, so after being informed about him and his seclusion, he sent for him to be brought immediately to the palace.
Mephibosheth probably expected execution, which usually happened to the members of a dethroned dynasty, where the successor put to death every male relative of his predecessor.
So when he arrived, he was in fear as he appeared before King David.  But David then promised to treat Mephibosheth with kindness for the sake of his father Jonathan.  It was immediately shown by restoring lands that had been confiscated from his family and in being told that he would have a special place of honor at the king's table for the rest of his life, just as if he were David's very own son.
David's conduct was totally gracious and generous and for such a person, he could do no more.  Jonathan was David's sworn friend, therefore he demonstrated grace to his son, Mephibosheth.
Sensing unworthiness to receive such favor, Mephibosheth fell on his face, did reverence to David as King and referred to himself as "a dead dog."  But David called him "the son of Jonathan" and expressed great affection towards him.
What David did for Mephibosheth was wonderful, but it's just an example of what God does for every child of His.  While we don't deserve and  can't earn His Grace, for Jesus' sake, God's Divine and Amazing Grace is extended to all those that turn to Christ.
While David did not personally know Mephibosheth, he did what he did for him for the sake of Jonathan, whom he loved.  So whenever David looked at Mephibosheth, he did not see a cripple, He saw Jonathan, talked about Jonathan and extended grace.  This revealed how much Jonathan meant to David.
Do You Realize How Much You As A Believer Really Mean To Our Heavenly Father?  When God sees us, HE SEES CHRIST IN US.  God doesn't see us as "no-account" crippled sinners.  In Hebrews 10:17 God said, "And their sins and iniquities will I remember no more."
David was never able to make Mephibosheth walk, but none of David's other guests would ever complain or talk about him as he ate at the king's table.  They learned to respect, love and give honor for Jonathan's sake.
As believers in Christ Jesus, we are the beloved of our Heavenly Father.  Our Father always sees us through the eyes of our Lord, Jesus Christ. As we too sit at His table, we've been blessed with all spiritual blessings. 
THEREFORE, HAVE FAITH IN GOD!