Today's Daily Devotional from Pastor Andrew Bills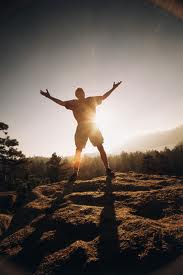 When Is God's Grace Sufficient To Help You?
For many of us, it's when you look around and discover there's nothing else left but THE GRACE OF GOD.  It's when you run out of places to turn to, people to count on and your ingenuity is all gone.
In 2nd Corinthians 12:9 God's answer to The Apostle Paul was "My grace is sufficient for you, for my strength is made perfect in weakness."
After Paul had earnestly sought The Lord three times for a divine miraculous deliverance, God revealed that He would support him and not allow him to be destroyed by that pressing trial.  And that His Amazing Grace and Favor would be shown to him and in that GRACE he would find his ample support and strength as he continued onwards.
It doesn't matter if Christ personally appeared to him or if he received this revelation from "the still small voice" of The Holy Spirit of God. Paul was use to communion with Christ and was accustomed to receiving revelations and answers from his prayers from The Lord.  But instead of his request being granted in the exact form in which he prayed, he received the assurance of God's grace which was more than enough to support him in his trial.   And has since ever been a greater assurance and comfort to us on today.
While an instantaneous removal or resolve of any problem can definitely appear to be a great blessing, The Lord is more interested in maturing you in faith, building a stronger relationship with Him and training you in the area of spiritual warfare than just your mere survival or receiving a temporary blessing.   It's through standing on His Word and depending on His Wonderful Grace that Christ has developed some of His greatest spiritual traits within our inner character.
Christianity is not "your ticket out!"  Christianity is God seeking for people that He can provide His grace, strength and wisdom through.   So, whenever there seems to be no hope, start believing that THERE'S ALWAYS HIS GRACE.
Through this passage of scripture, The Lord is revealing that so often He can't do anything great in your life until you've realized that you've come to the end of your rope, are weak and become submissive.  It's truly a shame that that's when our natural minds realize the need for His divine or supernatural aid.  But, again we will rejoice in His Everlasting Love and Wonderful Grace.
So listen very carefully!  You may not be all that you think you ought to be, but thank God, you're not what you used to be.  And if God could get you from where you were to where you now are, don't you think He can take you from where you are now to where you should be?
I've personally discovered that no matter how wounded a person's past might have been, only The Lord can impact your life and give you a promising future.  Therefore, be filled with The Holy Spirit and get your mind renewed in God's Word and Promises.  
Don't allow Satan to steal the Word out of your heart through the various pressures of life.  Stop feeling sorry for yourself and believe that Christ has called you to soar with the eagles instead of running with the turkeys.  Realize that Christ has called you to be an overcomer and instead of being overwhelmed.
Stop allowing previous incidents to continue to hold you hostage.  Don't permit past rejections, needs for approval, and shame to keep you discouraged.  So, instead of breaking down, BREAKOUT AND BREAKTHROUGH by faith in Jesus Christ.
Remember, it has been said that "You don't drown by falling into the water; you drown by staying there."
THEREFORE, HAVE FAITH IN GOD!
__________________________________________________________________
ATTENTION PLEASE!!!
I would like to invite you to listen and be encouraged through our daily Internet Radio Bible Teaching Ministry Broadcast at: www.blogtalkradio.com/andrewbills
ALSO
Do you have a Bible question that you would like to have answered or a personal concern, thought or issue that you would like addressed?
Then please simply send me an email and I'll feature your questions or topic anonymously along with my answer on one of my daily teaching session.
Please email us at: