Today's Daily Devotional from Pastor Andrew Bills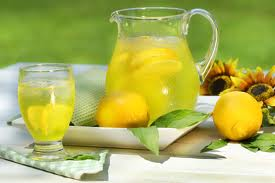 "What Should You Do When Life Gives You Lemons?"
Life is full of a variety of experiences. There are some we wish to bask in and hold in our memories, and others we would like to press the delete button and pretend they never happened.
While we can never go back and change things, we should allow those experiences to become our teacher but NOT our undertaker. If you don't learn from those experiences and grow you'll become angry or filled with resentment and then reap negative results from those experiences.
Now, we have a choice to make when life gives us lemons and things turn out opposite of our desires. We can blame ourselves or others and allow anger to steal our peace and do things we would later regret or say things we wish we hadn't. Or we can step back from the situation and trust God to fix those things we've messed up, heal the hurts that have been caused, and grant us the strength to move onward.
In Genesis 29:23 & 25 NIV it says, "But when evening came, Laban took his daughter Leah and gave her to Jacob, and Jacob lay with her. And when morning came, there was Leah! So Jacob said to Laban, "What is this you have done to me? I served you for Rachel, didn't I? Why have you deceived me?"
Jacob had made it known to Laban that he loved Rachel and had promised seven years of service for her hand in marriage.
After the marriage ceremony and much celebration, under the cover of darkness, Laban took Leah his older daughter and brought her to Jacob. As the bride was always veiled as a sign of purity, and the bedroom generally dark, Leah was brought to Jacob in the night instead of Rachel. And in the next morning, he discovered the deception and fraud.
So after much dispute and a week had passed, Laban agreed to give Jacob Rachel also: two wives in eight days and to each of these Laban additionally gave one maid-servant to wait upon them. And from all of this Laban was to get seven more years of service out of Jacob.
Through this experience, Jacob had to learn how to look to the Lord and move forward from this place.
God allows a variety of experiences to enter our lives to see how we'll respond, increase our faith, build our character and bring us to a greater maturity. Will you trust him no matter what or will you only trust him when he gives you what we want?
Jesus Christ is the author and finisher of our faith and He's the same yesterday, today and forever. He does not change. When something "bad" happens, it's in our best interest to look to Him with a confident attitude and trust Him to guide and help us to make sweet lemonade out of sour lemons.
He's got our backs in every temptation, trial or unexpected situation. Out of His great love, power and grace, if you turn to Him, He will see you through every adverse circumstance, negative situation and painful condition that you'll ever encounter, in the mighty name of Jesus Christ.
THEREFORE, HAVE FAITH IN GOD!