Today's Daily Devotional from Pastor Andrew Bills
What Should You Do W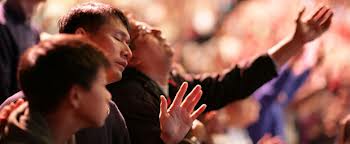 hen Facing Hardships and Battles?
The story of Moses and Joshua in the 17th chapter of Exodus was recorded as an example for believers today to know how we are to be when facing hard times,  negative situations, painful conditions, demonic activity and spiritual warfare all around us.
Israel under the leadership of Moses, just having experienced the delivering power of God at the Red Sea, now comes face to face with a brand new enemy as they're marching towards Mt. Sinai.
When confronted by the enemy, Moses instructed Joshua to gather men to fight and that he would go stand on top of the mountain with the rod of God lifted up high in his hands against that spiritual warfare.
Exodus 17:11-13 NIV says "As long as Moses held up his hands, the Israelites were winning, but whenever he lowered his hands, the Amalekites were winning. When Moses' hands grew tired, they took a stone and put it under him and he sat on it. Aaron and Hur held his hands up–one on one side, one on the other–so that his hands remained steady till sunset.  So Joshua overcame the Amalekite army with the sword."
While Joshua was heavily engaged in the physical battle against the enemy in that valley, Moses knew that the victory would only be won through intercession before God and also provide strength and encouragement to those Joshua and the soldiers below.  So, as Moses held up his arms and hands in prayer, Israel was strengthened and mightily prevailed.  But as his arms grew weary and dropped, the enemy began to overpower Israel.
Under Grace today, and under the influence of faith through Jesus Christ, a believer has been given authority and power against Satan and every spiritual enemy.  God enables His believers, and calls them to various services for the good of his church.  Joshua fights, Moses prays, but both minister to Israel and victory is won.
While indeed our struggles are manifested down here on earth, we must remember that the real warfare is in the spiritual realm and that Spiritual Warfare is very real.  Joshua fighting in the valley is a true picture of the believer's constant struggle and fight to win while we live down here on earth.  But before we can receive any victories here, we first must overcome in the spirit realm.  If our hands and our hearts become too heavy, if we restrain from seeking the face of God in prayer, Amalek will prevail.  That is, every spiritual enemy will gain ground against us.  Are you fighting to win or are you planning to wave the white flag of surrender?   God has called you to win!
While Moses with upheld arms is an excellent picture of a believer's true warfare in the spirit, we believers must first realize that Jesus Christ has already given us "The Victory Thru Calvary."  Jesus Christ defeated all spiritual adversaries, death, hell and the grave through His death on The Cross and His Resurrection. He has already provided the victory over all Spiritual Warfare.
Jesus Has Already Worked It Out For Us!  But, even though we are more than conquerors through Christ, we now have the on-going responsibility to walk in the Spirit and live in the victory that Christ has provided to all believers.
Therefore we too, like Moses, must keep our arms are raised high, and pierce through the darkness, quench the fiery darts from the enemy forces , keep identifying yourself with Christ, put on the whole armor of God, continue interceding before God's throne, maintain a life of worship, pray and praise and walk in the authority that Our Lord has given unto you.
THEREFORE, HAVE FAITH IN GOD!
__________________________________________________________________
ATTENTION PLEASE!!!
Do you have a Bible question that you would like to have answered or a personal concern, thought or issue that you would like addressed?
Then please simply send me an email and I'll feature your questions or topic anonymously along with my answer on one of my daily teaching session.
Please email us at: