Today's Daily Devotional from Pastor Andrew Bills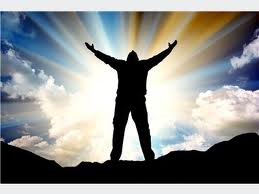 "What Is The Greatest Proof Of The Reality Of God?"
Was it the discovery of Noah's Ark or the discovery of the Dead Sea Scrolls?  Is it the continual rising of the sun over the horizon every beautiful morning, the synchronized orbiting of all the planets and stars throughout our universe or the majestic display of the waterfalls in some of our beautiful forests or parks?
No, it's all of the lives that have "TRANSFORMED"  by The Love, Power and The Grace of God. 
When we were dead in our sins, doing our own thing, unworthy of divine notice, He made the provision for our salvation.    We who had no time for Him or no love to return to Him were "TRANSFORMED," infused with the life of His Son, made a partaker of His Divine Nature and now have insight and favor with God.  We now live and reign with Christ and are joint-heirs with Him.
Christ's resurrection from the grave is our resurrection from our sins unto spiritual life in God.
This TRANSFORMATION is the work of God in the human heart of man and cannot be obtain no other way, except through Christ.  We were "quickened or made alive" when our spirit was brought to life.  Now our inner nature and character has been changed from death unto life.
Ephesians 2: 4-5 NIV says, "Because of his great love for us, God, who is rich in mercy, made us alive with Christ even when we were dead in transgressions.  It is by grace you have been saved."
Through the love of the unchangeable and sovereign God, and the transforming living power of Jesus Christ, trouble makers have become peace makers, abusers have been made responsible people, racists are now building bridges wonderfully to touch lives in other cultures and drug addicts that have been delivered are teaching others to beware of these demonic forces. 
More people are picking up the Word of God to study and hear God's Holy Spirit that used to be involved in all other types of sinful activities, with some even being the promoters of such.   
Criminals have surrendered their lives of crime and are now preaching the gospel of Jesus Christ, men are becoming more responsible in the parenting responsibilities and many are seeking God's face for welfare and lifestyle.
Wherever there have been a natural catastrophe, The Church and many other Christian led organizations or agencies are some of the first on the scene to come to the aid of the hurting and suffering.
Please listen very carefully….  When a person is dead in their sins, there is no life in their soul.  It's like looking upon a corpse from which life has departed.  There's nothing left but the ruins of that deceased person.
But as a sinner becomes "TRANSFORMED" become a living soul as their spirit is born or made alive.  We are delivered from sin, pardoned, reconciled and justified by God's Grace through Jesus Christ. 
While we believers never are "perfect" people, those that have been "TRANSFORMED"  do not go out and practice or live in habitual sin because your desire is to live to please God.
These things are not bought to pass by any thing that is done by you, it is the "free gift of God" as we are quickened by His Power.
The saving, forgiving, delivering, healing and transforming power of God is greatest and the most awesome power that you can ever know.  And remember, while salvation is free, IT CERTAINLY DIDN'T COME CHEAP!   
JESUS PAID IT ALL, WITH HIS BLOOD!