Today's Daily Devotional from Pastor Andrew Bills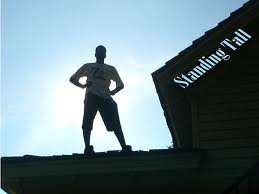 "Standing Through The Storms In Life Through Faith In God"
Years ago, I received an emergency call from a family in my church and immediately left my job as I rushed to the hospital.  The pregnant wife's family was being informed that due to her sudden severe illness, the possibly of her carrying the baby to full term was in jeopardy and even if the infant did survive, the baby would be born with severe retardation.  So, they were recommending terminating the pregnancy.
As their pastor, I was allowed into the intensive care ward and quickly taken to her room.  She had been sedated and was being given other needed medications as she was being care for.  So I quietly stood along her bedside and began to call upon THE GREAT PHYSICIAN, The Lord Jesus Christ.
I already knew Him as a doctor, but could I believe that He wouldn't lose this case?  As I sensed His Presence, I realized Christ never cares about your previous medical history, doesn't look at medical charts, doesn't care about the diagnosis, isn't concerned how you got to this place and doesn't even review your X-rays.  I had long discovered that when things even appear hopeless, There's Always His Grace, so I prayed.
As I prayed, I tenderly held her hand.  Then knowing her heart, even while she slept from the medication, I entered into an agreement before God to believe Him for the birth of a healthy baby and the healing of this mother and her life.  I took authority over the condition, the sickness and the circumstances, all in the mighty name of Jesus Christ.  I fully believed and confessed that when Jesus hung on that cross, He died that she and her baby would live.  I quoted scriptures over her and I prayed with such fervency until my clothes were drenched with perspiration.
I firmly stood on John 15:7 where Jesus Christ said, "If you abide in me and my words abide in you, then you shall ask what you will and it shall be done unto you." 
Any believer in Christ, who has engrafted God's Word into their heart, realizing their union or relationship with Christ, charged with His thoughts, burning with His purposes, allowing His Words to control or affect their lives, will have no will that is not in harmony with the Divine Will of God.
 I prayed according to God's promises in His Holy Word and stood in faith that not only would He do what He said He would do in His Word but that it was already done through the death and resurrection of Jesus Christ.  Then after embracing and encouraging her family, I went home.
This family had a major decision to now make.  Would they believe in The Lord that I represented and that a few of them had come to personally know?  Would they believe in the words and encouragement of their pastor from the Holy Bible? 
As a young pastor I had come to know the extreme importance of knowing Christ, believing in The Power of God through prayer and the importance of giving good biblical and spiritual counseling as I looked to the Lord.
That Sunday morning, I preached telling the church that "often God expects us to believe Him and His Word without any outward sign or evidence apart from faith in the name of our Lord and Savior Jesus Christ."   No matter how dark, dismal or discouraging our situation may seem to be, we are instructed and encouraged to have faith in God.  Everything is predicated on what God has already done for us through Jesus Christ.  The Lord wants us to believe and have faith in Him despite our surroundings and what they dictate to us.  We are to be open to the voice of The Holy Spirit of God for further direction.
That family stood in faith, they believed in the God that I had taught them about and they looked to Jesus Christ.  Several weeks later, that mother gave birth to a very healthy strong baby boy and over the years I watched him grow throughout childhood. 
That mother didn't know that I had come into her room and prayed like I did.  While she was later told of my visitation and prayer, I jokingly teased her that I had to buy a new suit because I never had prayed before where my suit had become so drenched that it couldn't even be cleaned.  We all laughed as we were filled with great joy and gave God the glory.
As a further result of this, the majority of her family came to church.  Some members of her family came who had never darken the doorway of a church before in their lives.  Many came to Christ and began reading the Bible for the first time. 
There's Nothing Too Hard For God To Do but the issue at stake is, "Will You Trust Him And Believe In His Word?"