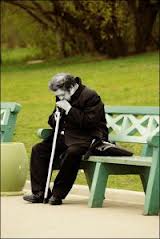 Are you in a place where it seems as if God has forgotten all about you? Are you crying out, "Lord, are you there? Are you wondering what's going on and if God really cares about your situation, struggle or the trouble that you're dealing with?
Yes God cares and it's always during those dark, difficult or trying times in our lives that God will show Himself to be all that you need and more as you turn to Him in your dismay.  It's through those dry places in life that you'll come to realize that God has been invisibly orchestrating in your affairs and working things out for your benefit and His glory.
In Genesis 8:1 it says, "And God remembered Noah, and every living thing, and all the cattle that were with him in the ark: and God made a wind to pass over the earth, and the waters subsided;"
Noah, who having heard nothing from God for five months, and having been in the ark longer than he originally expected, might have begun to think that he had been forgotten by God.
But, when it says that "God remembered Noah" it wasn't because God had forgotten all about him and all the animals aboard the Ark.  No, God always honors His covenant and word to man but it meant that God is now taking steps to deliver him from the waters through certain divine measures.  God sent an electrifying wind to promote evaporation and aid in the retreat of the waters and was preparing to bring them all to a safe place for landing and a new beginning.
In Ephesians 3:20 The Bible says that "GOD is able to do exceedingly abundantly above all that we ask or think."   HE IS ALWAYS ABLE.   And we must walk by faith, believing that He will do all that He said He would do.   God will not abandon you, and you must not abandon him, but remain steadfast to His Word.   He will never leave you or forsake you and is always there for you.  God will even show up with might, power and grace which will surprise you in ways that you never could've even imagined.
Hannah wanted a child. She wept greatly and was in anguish over the fact that she could not get pregnant. But she continued to ask God in faith for her need to be met.  And Samuel finally was born.
Joseph did not see his life changing after he had been sold into slavery by his jealous brothers.  But he continued to pursue the faith he had known as a child; he continued to keep a positive attitude and trust God through his circumstances. And God mightily took him from the pit to the palace.
Ruth had lost her husband.  She did not know what to do in the natural, but trusted the God of her mother-in-law that He would be faithful and take care of them.  And she was obedient to honor Naomi and go with her, believing in the promises of God to take care of her. Ruth was finally blessed with a wealthy and loving husband and became an heir in the very lineage of Christ because of her faithfulness.
Daniel was going to be thrown in the lion's den for his faith. But he chose to continue worshipping God in spite of the edict that he would be killed when he prayed to God and not the king. He persisted by faith, knowing that God would make a way.  And God miraculously closed the mouths of the lions and brought great victory to Daniel.
The truth is that trials will come, and life will not always be easy. You will experience or encounter times when it will appear as if your faith is being tested. But through it all, God is faithful. He is the same yesterday, today and forever.
No my friends, God has forgotten you, for the only thing that He's promised to ever forget is our confessed and repented sins.   Therefore, keep walking and standing on God's promises to deliver you.
Trials are going to come and go, but always allow them to help you grow and enjoy the grace of God.  In everything give thanks, so don't just praise him when you see the victory coming, learn to praise him beforehand and rejoice that there's "Nothing's Impossible For God!"
THEREFORE, HAVE FAITH IN GOD!
_____________________________________________________________________
ATTENTION PLEASE!!!
Do you have a Bible question that you would like to have answered or a personal concern, thought or issue that you would like addressed?
Then please simply send me an email and I'll feature your questions or topic anonymously along with my answer on one of my daily teaching session.
Please email us at: