Today's Daily Devotional from Pastor Andrew Bills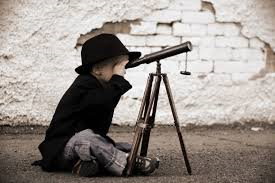 Has Your Soul Lost Sight Of Jesus?
Has your soul lost sight of Jesus Christ?   Is He with you?  Have you become so busy or gotten so comfortable in living your life that you've just assumed that He's with you when He's not?  Have you lost the intimate fellowship of His Holy Spirit?   Supposing or thinking that He's with you is really NOT sufficient enough.
In Luke 2: 42-46 NIV we read, "When he was twelve years old, they went up to the festival, according to the custom.  After the festival was over, while his parents were returning home, the boy Jesus stayed behind in Jerusalem, but they were unaware of it.  Thinking he was in their company, they traveled on for a day. Then they began looking for him among their relatives and friends.  When they did not find him, they went back to Jerusalem to look for him.  After three days they found him in the temple courts, sitting among the teachers, listening to them and asking them questions."
When Jesus was twelve years old, His parents took Him up to the Passover festival, according to the custom in The Law.  When the seven days of the feast of unleavened bread ended, Mary and Joseph left Jerusalem returning home while believing that Jesus was with them.
They had no inclination that Jesus had remained behind to hear and ask questions about the teaching of the doctors in the Scriptures, The Law, and the traditions of the elders and priests.  And due to the large travelling crowds, they simply believed he was with other members of their travelling friends or family members within that large group.
But, after a full day's journey, they finally noticed that Jesus was missing and then they frantically began to search for him throughout their party.
As tragic as it might seem, Mary and Joseph had travelled away from worshipping in the temple and from a great spiritual Passover feast, totally unaware that they were lacking the presence of Jesus.
Some has said that Jesus stands outside the doors of many churches, pleading to that congregation to let Him come in.  But, it's even worse when, after worshipping and celebrating in a church service, to try to keep Him locked inside after you've gone home and are going about your daily business, all without Him.
Mary and Joseph had Jesus with them in the temple but they lost Him once they departed home.  Mary was not only close to Jesus, she was His Mother, but she lost Him.  And not only did she lose Him, she didn't even recognize that He was gone or not in her midst.  So, no matter how close you have been to Jesus, you must be very careful not to lose Him, take him for granted or move away from His presence.
Upon realizing their inexcusable carelessness, negligence with a sense of great loss, they began to earnestly search for Him.  As their diligence increased, Mary and Joseph finally realized that they had lived three days without Him.
When they finally found Him, they found Him where they'd lost Him, in the temple.  At first they blamed Him, but it's never The Lord's fault when you go off without Jesus.
He doesn't just want to be with you in your church services, Jesus wants you to take Him along with you into your home, school, place of business and everywhere else that you may go.
He has promised to "Never leave you or forsake you."  Will you speak these same words to Him?
THEREFORE, HAVE FAITH IN GOD!
__________________________________________________________________
ATTENTION PLEASE!!!
I would like to invite you to listen and be encouraged through our daily Internet Radio Bible Teaching Ministry Broadcast at: www.blogtalkradio.com/andrewbills
ALSO
Do you have a Bible question that you would like to have answered or a personal concern, thought or issue that you would like addressed?
Then please simply send me an email and I'll feature your questions or topic anonymously along with my answer on one of my daily teaching session.
Please email us at: