Today's Daily Devotional from Pastor Andrew Bills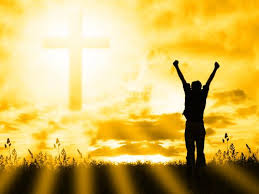 "Do You Realize The Victory That You Have Been Given In Jesus?"
The other night was one of the rare moments in which I was able to sit down and turn on the television.  While searching for a program of interest, I accidentally came across a program called, "The Biggest Loser."
This woman and her husband were undergoing various excruciating exercises, stressful workouts, physical ordeals and diets to reach weight loss goals as prescribed by the program host and medical physician.
While I was impressed by their successful accomplishments, I sensed The Holy Spirit of God remind me out of His Holy Word just who the "biggest loser" truly is. 
Through the cross and the resurrection of Jesus, the devil not only has been defeated but according to Ephesians 1:22 NTL says, "God has put all things under the authority of Christ and has made him head over all things for the benefit of the church."
Satan is a liar, the deceiver and is the "Biggest Loser" in the history of God's creation and no one has been a greater loser than him.  As the fired ex-employee of Heaven we must recognize the devil's limitations, his pronounced and sealed future and remember that "Through Christ we are more than conquerors." (Romans 8:37)
Satan is the "biggest loser" every time a sinner comes to Christ.  For not only does that individual find rest for his / her soul in Jesus but as they begin to walk in the mighty power of God's Divine Grace and Holy Spirit, they discover the authority they have been given and all of the spiritual blessings that are laid up for them through Christ.
Being a partaker of His Divine Nature, we are filled with the fullness of the grace and glory that's in Him.  So whenever you feel weakness from the power of the enemy or your flesh, all we need to remember is that the "same power that raised Jesus from the grave now dwells within us, perceive His greatness and rejoice in Him."
I've personally discovered that whenever I'm at your lowest moment, as a believer in Christ Jesus, I'm am still "on top of the devil."
The universe is under God's control and direction for the welfare of His people.  All the earthly kings and rulers; kingdoms and nations are under His control. Throughout history Christ has controlled all the wicked rulers of the earth and they have not been able to destroy that church which He redeemed with His own blood.
The angels in heaven are all under his control with reference to the church all the fallen angels, now demonic spirits, are under His control.  All the great powers of heaven, earth, and hell are made subject to Christ Jesus who is the Head and King and no weapon that is formed against it shall prosper.
THEREFORE, HAVE FAITH IN GOD!