Today's Daily Devotional from Pastor Andrew Bills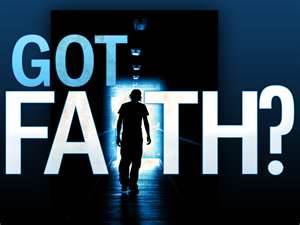 Do You Have Faith That God Can See?
Does your life exemplify faith in Jesus Christ or are you the only person that knows about it?  Having faith in Christ will have a profound effect on you as you journey through life. The key is only revealed as you look to Christ and remain focused on God's Word and what He has to say about you and your situation. And when others look at your life they should be able to also see Christ through your activities.
In 2nd Samuel 23:8-39 we are given a partial list of David's mighty men.  These were men who under dark and dire circumstances demonstrated great acts of faith and extraordinary strength in their eager service to please David.  They were all involved in David's victories over his enemies and connected with his ascension to the throne of Israel, so here their names were being distinguished for their courageous, heroic and brave deeds of faith.
As you read this dramatic portion of scripture, all believers should ask themselves, "Am I eager to please Christ?  Am I standing on His Word and walking in His Spirit?  Am I living in compliance with His Will?
While the exploits are too many to address at this point, please allow me to just briefly draw your attention to two of them:    In 2nd Samuel 23:10 NIV says, "But Eleazar stood his ground and struck down the Philistines till his hand grew tired and froze to the sword. The LORD brought about a great victory that day. The troops returned to Eleazar, but only to strip the dead."
Notice that the victory in this event was accredited to God.  And that the only special recognition given to Eleazar was that he and his fighting weapon (his sword) became one throughout that battle.
Are you one with God's Word?  The weapon of our warfare is The Word of God. No matter what you're experiencing, it's the will of God that you give priority to His Word.  For only in and through it shall you find the salvation, deliverance, healing, power, grace and victory that you need.
2nd Corinthians 10:4 informs all believers that "The weapons we fight with are not the weapons of the world.  On the contrary, they have divine power to demolish strongholds."  Our weapons of are  God's Word, prayer and praise, and along with The Holy Spirit, are mighty through God to the pulling down of strongholds and defeating our opposing enemies.
Then in verses 20 – 21 it says, "There was also Benaiah son of Jehoiada, a valiant warrior from Kabzeel. He did many heroic deeds, which included killing two champions of Moab. Another time, on a snowy day, he chased a lion down into a pit and killed it.  Once, armed only with a club, he killed a great Egyptian warrior who was armed with a spear. Benaiah wrenched the spear from the Egyptian's hand and killed him with it."
Benaiah evidently was not moved by what he physically saw but was only moved by His love and devotion to David his king and God.  The two champions of Moab were two gigantic, savage, lion-like men known for their strength and fierceness.
When there was a ferocious lion threatening and attacking a village, he tracked it into a small confining cave where he could not keep his distance or make his escape, where he knew he must fight or die. And on a snowy day, when lions are said to have the greatest strength because of the cold weather and in want of food, Benaiah not thinking about numbness in his hands or feet or the hideous roaring, killed the beast.
Through faith, The Holy Spirit of God will enable believers to achieve or accomplish many different things that will bring glory to God.  The ability to overcome any temptation, force of darkness or any negative situation fully rests upon you taking God at His Word, Trusting Christ and believing In His Wonderful Grace.
THEREFORE, HAVE FAITH IN GOD!
__________________________________________________________________
ATTENTION PLEASE!!!
Do you have a Bible question that you would like to have answered or a personal concern, thought or issue that you would like addressed?
Then please simply send me an email and I'll feature your questions or topic anonymously along with my answer on one of my daily teaching session.
Please email us at: