Today's Daily Devotional from Pastor Andrew Bills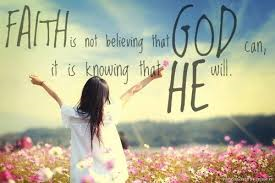 "Do You Believe That Jesus Is Able To Do It For You?"
Are the biblical stories of Jesus Christ and the promises of God just cute fairy tales to read or the true actions and words of The Living Savior?
Are they the words of a lunatic, faker or deceiver?  Or are they the promises from the lips of a loving and living Savior?   Is the Cross real or is the Resurrection just another religious myth?
These are important issues to resolve in your heart because if you don't believe that God is able to save, deliver, heal or meet your need, then truthfully, you are wasting your time and shouldn't proceed any further.
But with over 7,000 recorded promises throughout The Bible, there's a special word of inspiration or revelation for you regarding salvation, deliverance, healing, provision, forgiveness, guidance, grace and assurance of eternal life. 
But the main question or issue at stake is:  "Do You Believe That Jesus Is Able To Do It for You?"
In Matthew 9:27-30 NIV we read the amazing account which says, As Jesus went on from there, two blind men followed him, calling out, "Have mercy on us, Son of David!" When he had gone indoors, the blind men came to him, and he asked them, "Do you believe that I am able to do this?" "Yes, Lord," they replied.  Then he touched their eyes and said, "According to your faith let it be done to you"; and their sight was restored.
The Lord had just performed another miraculous healing in the home of Jairus.  After He departed with his disciples, immediately two blind men followed Him crying out aloud "Thou Son of David, have mercy on us."  After crying out aloud publicly to Him, they still remained blind as Jesus entered into another house.   
But just like our faith can often be tried, as we're also instructed to always pray and not faint when the answer doesn't immediately come, they persisted in following Christ into the house, seeking Him.   Whether they were directed or assisted by others or they cautiously and slowly proceeded on their own, they pressed forward to find Christ.
They showed a determination to persevere because they believed without any doubt or hesitation in their minds that Jesus Christ was able.  They had heard some of the wonderful stories about His Power and the marvelous testimonies about many miraculous healings.  So they were driven by their faith to believe and pursue Christ.
Upon entering the house, Jesus asked them one simple question, "Do you believe that I'm able to heal you?"  They replied, "Yes Lord."   Then Jesus touched their eyes and they were miraculously healed and left seeing.
It's clearly evident that Christ required an open profession of faith in Him just prior to them receiving their blessing, but there was not an expression of doubt anywhere in this true story.  THEY BELIEVED! 
Don't allow doubt or unbelief to rob or defeat you.  HAVE FAITH IN GOD!   Faith and love are of The Lord but fear, doubt and unbelief are of the devil.
The Bible presents more than enough evidence for you to trust God, believe in The Lord Jesus Christ and to rely on The Holy Spirit to meet your needs.  Therefore, discover what Christ says about your situation.
Instead of being discouraged by what you naturally see, isn't it time for you to be moved by what God has said in His Word?