Today's Daily Devotional from Pastor Andrew Bills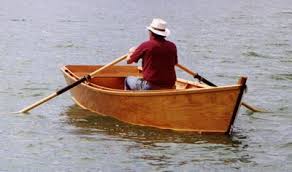 "Did You Know That This Is God's Plan For Your Life?"
Picture yourself in this rowboat. Please notice that you have an oar to the left and an oar to the right of you. Let's name the oar on the left as "faith" and the other oar as "works."
How far do you think you'd get just using one oar only?
If you use only one oar, you'll just continue to go around in circles, never getting anywhere.  But if you use both oars, then your boat can successfully be navigated in any direction. 
Therefore, one of the greatest insights for victorious Christian living is found in the book of James.  James 2:26 NASB says "For just as the body without the spirit is dead, so also faith without works is dead." 
As the body and soul are united as one to define life within a person, so much so that faith and faithful activities or works are used to define the life of a born again and spirit filled believer in Christ.
If good works are NOT being performed, it's clear evidence that there's no true and proper spiritual life or faith.  For if faith produces no fruit, then it's dead.  Now, James isn't arguing against having real and genuine faith.  No!!!  Because all believers are justified through faith in Christ.  
But, under the anointing of The Holy Spirit, James is declaring that genuine faith will always result in or be accompanied by good works.   As The Holy Spirit gives life to a believer, the love and grace of God through Christ stimulates us to walk by faith and then motivates us to righteous actions or activities. 
We should devote ourselves and all that we have unto The Lord and His service in appreciation for what great things He has done in our hearts and souls.
Jesus himself declared in John 15:2, "Every branch in Me that does not bear fruit, He takes away; and every branch that bears fruit, He prunes it so that it may bear more fruit."
Our Lord was declaring that "Everyone that is a true follower of me, that is united to me by faith, and that truly derives grace and strength from me, as the branch does from the vine, will have The Life Of My Spirit within them, to continue doing my will just as l lived to please My Father."
The more a believer exercises faith in Christ, the more he or she is strengthened in their belief.  The more he believes, the more he receives; and the more he receives, the more enabled he becomes in his work for God.  
Obedience becomes his sheer delight, not to obtain the applause of man but to please his Lord and Savior for the love and grace shown towards him.  Then because of God's love in his heart, he is now allowing Christ to work through him towards other men.  And this now becomes one of the main elements in which his soul lives to do.
THEREFORE, HAVE FAITH IN GOD!