Today's Daily Devotional from Pastor Andrew Bills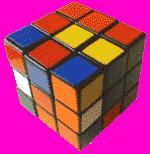 "Did You Know That Reading The Instructions Can Keep You From Failing?"
Several years ago, I walked into my friend's house and he was trying to solve a new game called Rubik's Cube. After picking it up myself, I laughed and told him how easy it should be for me to solve it.
But, after several hours that day and many other days that I had wasted in trying to solve it, I was simply amazed on what I would have accomplished sooner if I had only read and followed the instructions.
While the Rubik's Cube is a complicated fun toy, reading and following the instructions would've saved me a lot of frustration, misery, stress, pain and wasted time. But, like so many other areas in life, we think that we're smart enough to can handle everything ourselves. Then we begin to wonder, "How did this get out of control?"
Well, life in relationship to God's Word is exactly that way. If we fail to read and follow the instructions, and apply them to our lives, then you'll end up having to face certain consequences for messing up that always prove to be embarrassing, painful, and even costly.
In 2nd Timothy 3: 16-17 NIV, God says, "All scripture is God-breathed and is useful for teaching, rebuking, correcting and training in righteousness, so that the man (or woman) of God may be thoroughly equipped for every good work."
This reveals that the Bible is our instruction guide for every part of our lives. And if we abide in His Word, the results will turn out differently in all of our endeavors. In the Word, God speaks to us in every scenario of life: marriage, parenting, finances, worship, education, business, and even sex.
Secondly, The Holy Spirit will move and guide your heart in the right direction or decisions so you won't again make the mistakes that have previously made.
Shouldn't your life be more about walking in victory and accomplishing things that will inspire and bless people and have a lasting effect?
THEREFORE, HAVE FAITH IN GOD!
___________________________________________________________________
ATTENTION PLEASE!!!
Do you have a Bible question that you would like to have answered or a personal concern, thought or issue that you would like addressed?
Then please simply send me an email and I'll feature your questions or topic anonymously along with my answer on one of my daily teaching session.
Please email us at: