Today's Daily Devotional from Pastor Andrew Bills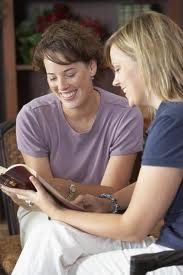 "Did You Know That God Wants To Take You From Where You Are To Where You Need To Be?"
God wants to broaden your horizons and take you from the "old and familiar" to a brand new level, but have you become so comfortable that you don't want to move and go forward?    What's holding you back today?  
The Holy Spirit declared through The Apostle Paul in Romans 12: 2 NASB, "Do not be conformed to this world, but be transformed by the renewing of your mind, so that you may prove what the will of God is, that which is good and acceptable and perfect."
One of the greatest enemies of believers today is conformity to this world.  It's you being overwhelmed with minding earthly things that instead of renewing your mind in God's Word and walking in the Spirit, you're operating in the flesh and not being effective for Christ.
I've met many believers that can tell you the complete history and current statistics of the many different athletes, but they can't quote any scriptures or share Christ with anyone.  Then let the truth be told that "Normal Christian Living is considered abnormal by many of the folk that claim to be believers or by folks who just go to church somewhere."
The word "Mind" is used 95 times in The Holy Bible which simply means the place of consciousness, perception, understanding, feeling, judging, reasoning, determining and choosing.  It's the place where our thoughts are born, reside and then become action.  From that point our character is forged, shaped and outwardly manifested. 
Once a sinner has been saved by Christ Jesus, it's here that God wants to impact, renew and fill you with His Word that you might not sin against Him, grow in faith and learn to walk in the power of The Holy Spirit of God.
The mind is the heart, soul and center of your personality, decision making and your every action.  Again, it here that Christ wants to influence, but this responsibility is now yours because faith comes by hearing and is developed, nurtured and then becomes stronger through the consistent renewing of your mind in His Word.
The work of The Holy Spirit first begins in the understanding, then His Word effects the will, affections, conversation and actions until there is a change of the whole being into the image of Christ in knowledge, righteousness and holiness.  One cannot live godly unless there is a giving up of one's self to Christ Jesus.
There's no other way for this to happen.  There are no short-cuts that you can take.  Reading, studying and meditating in His Word is you spending time in His Presence, receiving inspiration directly from Him.
Through disciplined reading, studying, meditating and praying in the Holy Scriptures, several things will begin to happen within and around you.  You'll begin to erase Satan's false and negative programming of your fleshy mind, thereby crushing the devil's control ability over you and your surroundings.
Through the on-going studying of The Bible you'll increase your ability to obey God.  Obedience is your key to the intimate, supernatural, divine and miraculous hand of God moving in your life and orchestrating in your affairs.
It's through the studying of God's Word that you'll see yourself being set-free from all past guilt and condemnation.  Then you'll also be able to eliminate the success and effectiveness of their demonic attacks, entrapments and deceptions. 
Through the renewing of your mind in God's Word, you'll receive guidance and direction for your life and walk in the anointing of The Holy Spirit of God.   There's just so much more to the heavenly riches that are in Christ Jesus to all that will follow Him.
Many desire and want these things, but are you willing to deny yourself, pick up your cross and follow Jesus?