Today's Daily Devotional from Pastor Andrew Bills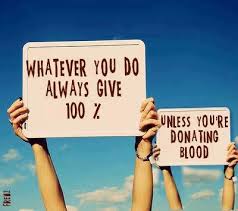 "Can We Get To The Real Heart Of The Matter?"
A pastor was preoccupied with thoughts of how he was going to ask the congregation to come up with more money than originally expected for repairs to the church building.
Suddenly he became further annoyed when he discovered that the regular organist was sick and a substitute had been brought in at the very last minute. The substitute, wanting to know what to play, asked the pastor. The pastor replied, "Here's a copy of the service, but you'll have to think of something to play after I make the announcement about the extra finances needed."
During the service, the pastor paused and said, "Brothers and Sisters, we're in great difficulty, the roof repairs cost twice as much as we expected, and we need $4,000 more. Any of you who can pledge $100 or more, please stand up."  Then, at that very exact moment the substitute organist started playing, "The Star Spangled Banner."
The Apostle Paul, under the anointing of The Holy Spirit of God says in Romans 14:23 "for whatsoever is not of faith is sin."  You should be fully persuaded within your heart that whatever you're doing or giving is both scriptural and well pleasing to The Lord as an act of faith, worship and appreciation from your very soul.
So the questions arise, "Why do we do the things that we do?"  What is your motivation?  Are you being led of The Holy Spirit in an act of faith and obedience?  Are you doing it just to be seen by men?  Are you reluctantly giving or doing something just because you feel pressured or obligated?
Now according to 2nd Corinthians 9:7 NIV, we are instructed that "Each man should give what he has decided in his heart to give, not reluctantly or under compulsion, for God loves a cheerful giver." Additionally God says in Colossians 3:17, "Whatsoever you do in word or deed, do all in the name of the Lord Jesus, giving thanks to God and the Father by him."
While all believers are instructed to be in compliance to HIS Word, if it's NOT by faith, and NOT from a pure heart, then you've placed yourself outside His gracious acceptance and blessings.  Demonstrating alternative fleshly motives will have their own rewards but will not release the hand of God in your midst.
So, examine your motivation and make sure that you love The Lord with all your heart, soul, mind, strength and your God given resources, all to His Glory in faith from your heart.
THEREFORE, HAVE FAITH IN GOD!
__________________________________________________________________
ATTENTION PLEASE!!!
I would like to invite you to listen and be encouraged through our daily Internet Radio Bible Teaching Ministry Broadcast at: www.blogtalkradio.com/andrewbills
ALSO
Do you have a Bible question that you would like to have answered or a personal concern, thought or issue that you would like addressed?
Then please simply send me an email and I'll feature your questions or topic anonymously along with my answer on one of my daily teaching session.
Please email us at: