Today's Daily Devotional from Pastor Andrew Bills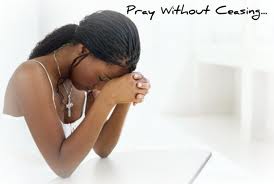 "Before You Give Up And Let The Devil Win, Go Back And Pray Once Again!"
One of the most important principles that we must always remember as we journey through life is, whenever there appears to be no hope, "THERE'S ALWAYS GOD'S GRACE"
1st Kings 17: 20-22 says, "Then he cried out to the LORD, "LORD my God, have you brought tragedy even on this widow I am staying with, by causing her son to die?" Then he stretched himself out on the boy three times and cried out to the LORD, "LORD my God, let this boy's life return to him!" The LORD heard Elijah's cry, and the boy's life returned to him, and he lived."
In this amazing story, we not only see the power of prevailing prayer, but the power of Him who always hears our prayers.
Elijah had been showed great kindness from a woman that was a widow.  During her extreme poverty, God through the prophet had blessed her for feeding and sustaining Elijah.  Then one day, without any prior warning, her son suddenly died.  In her tremendous grief and broken emotional state, she began to blame God and the prophet.  So, Elijah took the lifeless body of her son into his bedroom and began to cry out to The Lord.
Elijah knew he had no power to bring this boy to life, but he knew God had the power. So, he gave himself in prayer to God.  He prayed 3 times and spread himself over the lifeless body of the widow's son and God heard and answered his prayer. 
Whether you're laboring in prayer to win souls to Christ, because the condition of every one who is living without faith and confidence in God is compared in the Scriptures to spiritual death and the conversion of a soul is spoken of as bringing the dead to life.  Or if you're laboring in prayer for the supplying of a need or to obtain a breakthrough in a certain pressing area, the truth still remains that "the effectual fervent prayer of a righteous man availeth much" – James 5:16
"So, Before You Give Up And Let The Devil Win, Go Back And Pray Once Again!"
In Hebrews 4:16 NIV we are instructed and encouraged by this word from The Apostle, "Let us then approach the throne of grace with confidence, so that we may receive mercy and find grace to help us in our time of need."
Jesus Christ is our Great High Priest and His Grace and Power is there to save, deliver, strengthen, provide for, and help guide us through every adverse circumstance, negative situation, painful condition and satanic entrapment that you're experiencing.
Seek His Face and You'll See His Mighty Hand Move Amazingly In Your Life and Situation…..
THEREFORE, HAVE FAITH IN GOD!
__________________________________________________________________
ATTENTION PLEASE!!!
I would like to invite you to listen and be encouraged through our daily Internet Radio Bible Teaching Ministry Broadcast at: www.blogtalkradio.com/andrewbills
ALSO
Do you have a Bible question that you would like to have answered or a personal concern, thought or issue that you would like addressed?
Then please simply send me an email and I'll feature your questions or topic anonymously along with my answer on one of my daily teaching session.
Please email us at: