Today's Daily Devotional from Pastor Andrew Bills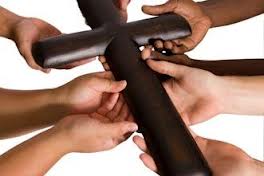 "Are You Missing A Lot Of Different Body Parts?"
Years ago, I grew up watching the western television series "The  Lone Ranger."  He was a masked ex-Texas Ranger, who with his trusted Indian friend, Tonto, fought injustice throughout the Old West.  With his trademark white stallion Silver, and his special made silver bullets, it was quite a thrill to watch as they galloped off, when someone would eventually ask, "Who was that masked man?"
While that series was successful during it's era, somehow that "Lone Ranger Mentality" has crept into different areas of our society.  And this "Lone Ranger Mentality" is not part of God's program and has no place in the local church or the whole body of Christ.
Now, there are 2 main areas that are important to address here:  The first is to those who think that they should stay home, apart and separate from any local Church, believing that they can obtain revelations, visions, dreams and everything else they need by staying home.  This IS NOT the teaching from The New Testament!!!
Then secondly, but equally as important, are those who call themselves believers, but who promote division, hatred, racism, bias and denominational prejudice within the body of Christ.
In 1st Corinthians 12: 12-31, The Apostle Paul, to enlighten all believers,  discusses the issue of unity among the believers, mutual participation in the body, the importance of mutual dependence of every individual member in the body and the various gifts of the Spirit.
In these verses of Scripture, The Church is being compared to a human body and all of its members, with Christ being The Head of this one body.
It's through the regenerated work of The Holy Spirit that all believers are made members of the body of Christ.  Then each one of us have been given a designated place from our Lord and have been made fit for His usage, for the good of the whole body.
While each one of us are distinctly different from one another, we are all dependent upon one another and are expected to do our part to support and keep the body moving forward.   If all believers would visualize and heed to this then there wouldn't be divisions, quarreling and strife between the different members of the same body.
For the eye should never despise the ear or regard it as less valuable than itself.  Therefore no member of the body of Christ, which is the Church,  however feeble, illiterate, obscure or impoverished should be treated as such.  For we are all one in Christ and needful in our individual places of operation as we are empowered by His Holy Spirit.
An eye all alone cannot function as a body because it's missing a lot of other body parts.
There would be more harmony and unity within the body and we would be more effective against the demonic forces that work overtime to keep us divided.
Ephesians 4:4-6 says, "There is one body and one Spirit, even as ye are called in one hope of your calling.  One Lord, one faith, one baptism.  One God and Father of all, who is above all and through all and in you all."
Remember, we will be recognized by the love of God through Christ that is visibly demonstrated through our lives, to the glory of God our Heavenly Father.