Today's Daily Devotional from Pastor Andrew Bills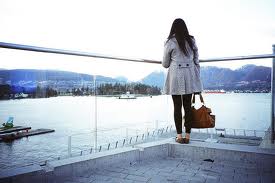 "Are You Longing For A Change But One Doesn't Appear Anywhere In Sight?"
I began conversing with a woman that I knew was experiencing hard times when suddenly she looked at me and out of anguish said, "I'm still waiting for my ship to come in!"   So, to lighten the moment, I jokingly replied, "It did, but it sank in the harbor!   And if you want your stuff you'll have to dive down to get it and I'll help you," which brought a great smile to her discouraged face.
Longing for a change, something better or different always seems to be a driving factor in our lives, with disappointments running a close second in the race.  But, the Bible offers us more than a theology for overcoming a variety of situations.
Psalms 46:1 says, "God is our refuge and strength, a very present help in trouble." 
During any "soul-shaking"experience, in the midst of the worst of times, we are helpless with Christ.  It's during these encounters or attacks that HE IS our fortitude, salvation, deliverance, guidance, comfort and help even in our darkest hour.   Do you believe this?
God is our source to flee to for safety, strength, shelter, aid and assistance despite any danger, trouble or even weakness that may come our way.  HE IS the strength for our hearts under the greatest of trials and our "way out of no way"from every enemy that surrounds us.  Again, do you believe this?
"Present Help" reveals that HE IS THE proven, powerful, effectual, reliable and faithful ONE.  HE ALONE makes the difference because of who HE IS and the graces that He loves to demonstrate in the lives of those that trust Him and confess Him before all others.
"Trouble" identifies all that will come upon us which will bring sorrow, anxiety, discouragement, broken-heartedness and grief. 
God is the God of all comfort and He has a lengthy and faithful history of divinely intervening and orchestrating in our affairs.  Now is NOT the time to give up on God because HE HAS NOT given up on you.
While the gospel is the Good News to the world, too much Christian teaching today seems to be a little more than positivism plastered with religious jargon or clichés. We must cease preaching "faith in our faith" and recover the distinctive ability to have faith in THE LIVING CHRIST and His atoning work, walk in obedience to the scriptures and listen to the voice of The Holy Spirit.  
Realize that through Christ, HE IS THE LORD OF YOUR BREAKTHROUGH, so you have nothing to fear!
THEREFORE, HAVE FAITH IN GOD!