Today's Daily Devotional from Pastor Andrew Bills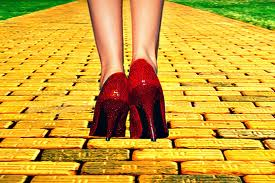 "Are You Following The Yellow Brick Road?"
In 1939, a motion picture was made that would have a great impact upon our world called, "The Wizard Of Oz."  While it's a treasured classic to untold millions, its underlying message is of greater value as Dorothy spends the entire movie just trying to get back home.
Initially Dorothy had run away from home but an unforeseen tornado resulted in her going to a foreign land.  Once there, Dorothy thought she had been brought to a place in which she felt ill-prepared but all she really lacked in her life was DIRECTION.  
Maybe you're seeking for a new fresh start, a new beginning or a dramatic change in your immediate circumstances.  Maybe you're seeking for a new employment or business opportunity, a new community environment to reside in or even a new relationship.  But you don't have to run away or try to escape to make changes in your life or circumstances.  All you need is "DIRECTION." 
All you need is to seek God's face, walk in His Word and then you'll experience His Divine Intervention, Grace and the leading of His Holy Spirit.
God can and wants to provide direction in your life to develop you from where you are.  But, you're going to have to learn to lean on and trust The Lord. Remember if you want to get to the Promised Land you first must learn to follow Him.  As you start to follow Him, you'll begin taking the first steps towards recovery or having a brand new beginning.
Proverbs 3: 5 & 6 says, "Trust in The Lord with all thine heart and lean not unto thine own understanding.  In all thy ways acknowledge him and he shall direct thy paths."
When Dorothy landed in Oz, she was given the wonderful instructions to "Follow The Yellow Brick Road," and was advised never to detour from it.  Then along the way, she made some new friends of great diversity, but she also encountered some new enemies. 
As we journey through life we'll also meet people of different personalities, skin tones, cultural backgrounds, hair textures, intellectual differences, style preferences, and theological variances.  But by trusting Christ, you'll learn how to distinguish those who will become friends that will help or encourage you from those that are predators sent into your midst to lead you astray, discourage, defeat or try to destroy you.
God wants to guide you on your journey and do wonderful and amazing things in and through your life.  The pathway for you is always forward in faith from wherever you are.  Your walk of faith will not be a quick sprint or a magic carpet ride but a life-long journey of obedience, fellowship and trusting in The Lord.  And as you do those things, He Will bring you safely home.
THEREFORE, HAVE FAITH IN GOD!