Today's Daily Devotional from Pastor Andrew Bills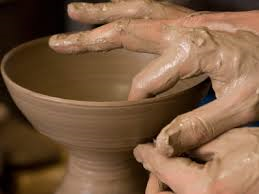 "Are You Allowing Christ To Have His Way In Your Life?"
It's totally unbiblical and impractical to think that after receiving Christ in your life you'll live happily ever after down here on earth. 
After conversion, your life should be about learning, growing and maturing, especially as you experience falling down, getting back up, forgiving others, walking in His Spirit, piercing through the darkness and overcoming different obstacles and hurts.
But from day to day, you'll discover that God's at work in your life shaping you into the image of His Son, Christ Jesus our Lord.
During the days of The Prophet Jeremiah, Judah was a nation which had forgotten God.  Chaos spread throughout the land, corruption was in the government, morality declined to an all time low, evil had infected the peopleand they had rejected God.
So, in Jeremiah 18: 2-6 God said to the prophet, "Go down to the potter's house, and there I will give you my message."  So I went down to the potter's house, and I saw him working at the wheel.  But the pot he was shaping from the clay was marred in his hands; so the potter formed it into another pot, shaping it as seemed best to him.  Then the word of the LORD came to me He said, "Can I not do with you as this potter does?" declares the LORD. "Like clay in the hand of the potter, so are you in my hand."
God uses many different things, some of which are visual aids, to mold, shape, instruct and teach His people.  So God sent him to the potter's house and told him there he would hear His words and direct him on what he should say to the people.
While Jeremiah observed the potter working, God brought two great truths to his mind.  First, that God has the authority and power to form and fashion people, nations and kingdoms as He pleases.  He may choose to mold or even dispose of the clay as He sees fit or form it into another vessel than would better serve His purpose. 
Second, that there is no power in the clay to resist or hinder him.  It's absurd for us to believe that the clay can quarrel against the potter and make demands on what it should be made into.  Can we as the clay complain to the potter that we don't like what He's making us into?  Does the clay have the rights to withstand His mighty force?  Does the clay have the right to demand what it wants to be made into?  Can the clay complain because of how it's being formed and what it's being made into?
The true expressions of the clay should be:  "Have thine own way Lord, have thine own way. For thou art the potter, I am the clay.  Mold me and make me, after thy will, while I am waiting, yielding and still."
When we are in the Potter's hands, feeling the correction of His once bloodied and nail pierced hands, know that you can trust him.   For our Potter has suffered with us and knows how we feel, but is determined to make us into a vessel fit for the master's use.
For the inner workings of The Holy Spirit in our lives will become visibly and tangibly seen through our faith, prayer being answered and our obedience which are the outward demonstration from our inner spiritual state.
Such is the way of our lives.  When pressure comes into our lives, often it's the hand of the great potter just turning us in the right direction.  When repentance and a yielding to His will is achieved, the pressure is relieved and the clay is formed into it's beautiful image.  But when something in the clay resist or a lump is discovered, the great potter will begin to crush it and begin to reshape it into the vessel He desires.
As clay in the hands of the great potter, don't spoil the work by murmuring, grumbling, complaining, resisting or feeling resentful and becoming bitter.  Realize and accept the fact that God is taking you from imperfection to something greater that He has in mind that's in store for you.
Receive what you don't comprehend, surrender to His will, submit to what you don't understand, believe over what may appear to be impossible, yield to the moving of His Holy Spirit, walk in faith even if you can't see what He's doing , be faithful unto God and watch Him mightily move in your life and affairs.