Today's Daily Devotional from Bishop Andrew Bills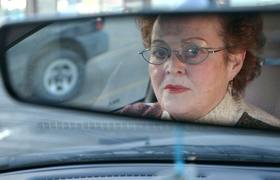 "Are You Still Living In The Rear View Mirror?"
The rear view mirror in an automobile was designed for a driver to periodically take a quick glance at what's behind you or see what you've passed. But it was never created for all of your attention to remain there.  
The front windshield is several times larger than the rear view mirror for an important purpose:  To keep your attention on what's ahead and focus on where you're really trying to go.
Many won't go forward in their lives because they're pre-occupied with looking back instead of pressing forward.  Others don't want to make changes because they're too comfortable with how things used to be.
Their past is familiar and they think more about what's behind them than about where they're heading and what will happen.  If their eyes remain fixed to the rear view mirror of life, sooner or later they are bound to crash.
You are a liability to all who ride with you if you don't remain alert and see where you're going.  Nobody wants to be involved with a driver whose always looking back or distracted with past events. 
In Philippians 3:13-14 NASB, The Apostle Paul said, "Brethren, I do not regard myself as having laid hold of it yet; but one thing I do: forgetting what lies behind and reaching forward to what lies ahead, I press on toward the goal for the prize of the upward call of God in Christ Jesus."
Paul's metaphor is that of a runner in a Grecian race, running to win.  In order to win, the runner cannot afford to divert his mind nor attention away by stopping to look behind him to see how much ground he had passed over, the past difficulties he had to overcome, if a competitor had fallen, or to check out the locations of the other runners.  He has to keep his eyes focused on the prize, control his breathing, extend every muscle and strain every nerve so that he might press onward to win his crown.
Each new day is God's gift to you and what you do with it is your offering back to Him, as well as a gift to yourself and your family.  Each day He grants us His Grace and another chance to seize opportunities to make that day count towards eternity.
While there's nothing wrong with having cherished past memories, you must not allow the past to interfere with your pressing onward to win the prize.  Don't allow past sins to weigh you down or count you out.  Confess, repent and walk forward in the forgiveness of God and know the shed blood of Jesus Christ now covers your sins and they are remembered no more by God.
Don't look back upon worldly things or activities and start yearning after them like the Israelites did after the fleshpots in Egypt.Stop looking back with regrets.  Looking back can lead to you drawing back, turning around, going off in the wrong direction and crashing.
Some of the things you once valued, pursued or trusted in before your conversion and new relationship in Christ need now to be dropped, renounced, discarded and counted as dung, as you're now running in the new race that's set before you.  Have faith in God and press on to your prize, and with His help, know that you will make it.
THEREFORE, HAVE FAITH IN GOD!