Today's Daily Devotional from Pastor Andrew Bills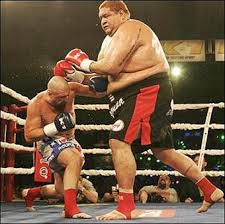 "Are You Willing To Fight In Faith Or Will You Settle For Something Less?"
Even when you're feeling overwhelmed by opposing circumstances, are you willing to fight in faith or are you just merely hoping for anything to happen, even if it's much less?
What would you say to a high school or college student that studies extremely hard, disciplines his time and behavior, but still finds it hard to achieve a passing grade?
While we've all had to deal with circumstances that didn't produce the hopeful results that we were looking for, many are continuing to learn that settling for something less doesn't produce the outcome or give you the joyous satisfaction that you're seeking after or desire.
An employee, who worked very hard to get ahead in his career, is unexpectedly handed a pink slip layoff notice and now must face unemployment during the recession.  A mother proudly delivers a beautiful bouncing baby boy, only 16 years later has to struggle to get him off drugs and has to bail him out of jail.
Many of your attempts to be successful or victorious will be met with situations that will try to beat you up and take you down no matter how courageous you might be.So, What Should You Do When You're Facing Any Difficulties Like These?
In Mark 5: 24-34, we're given the brief but wonderful story of the woman who had been hemorrhaging from a chronic disorder for 12 years. She had suffered many different treatments at the hands of many different doctors and fake healers, but even worse she had spent all of her money.  Then she heard about Jesus and allowed faith to arise in her heart to win against her battle against her painful condition.
Then Mark 5:27-28 says, "When she had heard of Jesus, came in the press behind and touched his garment. For she said, if I may touch but his clothes, I shall be made whole."  She not only believed but acted on her faith by moving in confidence against all logic and the present circumstances and pressed her feeble body through the crowd and touched Him.  Then Jesus commended her for her faith and told her that she was totally healed from her painful and lengthy condition.
Like the woman with the issue of blood, you too must become relentless and tenacious in order to prevail over many of the adversities that you face. At first her secret act of faith was only known to the Lord. But finally it was revealed that she had the mindset of a champion and refused to accept anything else outside of being healed as she touched Jesus. Her faith became her strong assurance and confidence, which against all odds, drove her to press her way through the crowd, forward to extract what she needed from Christ.
You too can tap into Christ and harness and convert the storms of life into winds that will allow us to soar. Whenever you feel that you're being pushed to the wall, then break through that obstacle or enlarge that room. When adversity tries to press in against you start pressing into God's Word and draw closer to Him. Stand on His Promises, be filled with His Holy Spirit, and realize that "Greater Is He That's In You Than He That's In The World." (1st John 4:4)
Trust Christ to help you rise up and move beyond the limits of your past mistakes, wounded hurts or previous failures and be transformed by faith in His Word. Recognize that your battle scars have now made you tougher, smarter and now more resourceful.   Stand up and go forward in the power of His Holy Spirit and be convinced that He will see you through all the storms of life. 
THEREFORE, HAVE FAITH IN GOD!