Today's Daily Devotional from Pastor Andrew Bills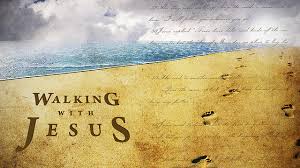 "Are You Walking With God Until You Can't Be Seen?"
Are you an eminent example of faith in Christ so that those around desire to call upon the name of The Lord?  
Walking with God and enjoying His Presence isn't just an awesome experience in the life of any believer, but it's also a wonder witness and picture of the Living Christ within and His transforming power.
Genesis 5:24 NIV says that, "Enoch walked faithfully with God; then he was no more, because God took him away."
Upon the birth of his son, Methuselah, Enoch received a revelation of God that so dramatically impacted his life that he not only began to walk with God, but walked with such an intimacy and closeness for the rest of his life. 
His life was so emphatically distinguished by his obedience and intimate fellowship with The Lord that,  "God took him away."
Now, from a historical perspective, we know that before the judgment of the Flood, Enoch was raptured or "translated that he should not see death" according to Hebrews 11:5.….
But what does this mean to us today?
In the future, while we know that all believers shall be raptured or translated to be with God, today it means that we are to live and walk in such a way that Christ can be seen more in our lives than our very own natural or fleshly character.
So often, the natural, carnal, worldly and fleshly desires and actions of so many Christians clash with the will of God, the person of Christ being seen through them and the leading of The Holy Spirit in their lives.  But God wants less of you and more of Christ to be seen.
Are you allowing His Love to operate through your life and impact those in your surroundings?   Are you allowing the fruit of the Spirit (according to Galatians 5: 22-23) to flow through you and influence others in your regular daily activities?
Walking in meekness is not a sign of weakness.  Being strong in The Lord has absolutely nothing to do with having an arrogant personality or mean character.  Walking in faith and being directed by The Holy Spirit has nothing to do with just using mere human reasoning.   Forgiveness is the first step in recovery, but it's a small humble step that so filled with pride won't take.  We all must realize that any "secret sins under any cloak of darkness" are always open scandal in heaven above.
All believers must learn to say what John The Baptist declared in order to give God the glory, "I must decrease so that He may increase."
Today, so many are always looking for the negative in people's lives or in what they're attempting to do.  The issue is that we're all "flawed".  We've all made mistakes, sinned and come short.  But, by the grace of God through Jesus Christ, believer's lives should be so transformed that when others observe us, their lives should be  influenced, impacted and even persuaded to look to Jesus Christ.
Can others see Christ within you?