Today's Daily Devotional from Pastor Andrew Bills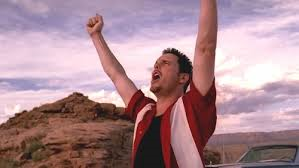 "Are You Showing The Devil That You Don't Believe That You're Defeated?"
Are you counting on God for your breakthrough and victory?  The Cross and The Resurrection of Christ is our assurance that God has given us the victory over all of our enemies in every conflict that we face, in the mighty name of Jesus Christ.
Today, many people are now facing some of the most horrific situations that they've ever encountered before.   Lives are being destroyed by drug addiction or chemical dependency.  Financial hardship is crushing homes, abusiveness is crippling lives and time won't permit me here to list all of the other demonic activities or satanic entrapments that are wreaking havoc throughout our cities today.
As the powers of darkness are opposing you, wishful thinking or mere hoping will not resolve your dilemma or cure your situation.   Trying to handle matters on your very own really won't work out well for you either.  Only the power and authority of God's Word through faith in Jesus Christ will.
One has only to pick up the Bible and start reading from the beginning to discover God's Eternal Existence, His Supremacy, His Authority, His Power and His Grace.
Well, Don't You Know That You Completely Surprise The Devil When You Rise Up In His Face In Faith, In The Name Of Jesus Christ, And Stand On God's Word? 
The powers of darkness never expect you to do that.  Satan though you were defeated!  NO!!!   More so, he thought you even thought that you were defeated and finished.   So stand up and show the devil that you don't believe that you're defeated by glorifying Christ and going forward.
Publicly declare that the crisis you're experiencing will NOT take you down, out or under and it's just another opportunity for you to encounter the grace and power of The Lord Jesus Christ.  Then start celebrating and glorifying Christ for your breakthrough the moment you turn things over to The Lord. 
Remember the true and precious words in a song which said, "Don't wait till the battle is over, shout now.  For you know in the end we're going to win!"
Celebrating is a great part of victory.  Celebrate with those who may have helped, assisted, aided, showed kindness or been involved with you throughout your situation.  But don't be surprised after its all over how many others will show up to claim to have been one in spirit with you all along.
We too must learn what David discovered, that God Almighty is "The Lord Of The Breakthrough."
In 2nd Samuel chapter 5, once again we read of the enemy forces attacking David and the nation of Israel.  But, we also read about God's supernatural divine intervention in their midst.
2nd Samuel 5:20 NLT says, "So David went to Baal-perazim and defeated the Philistines there. "The LORD did it!" David exclaimed. "He burst through my enemies like a raging flood!" So he named that place Baal-perazim (which means "the Lord who bursts through").
As a soldier who placed his confidence in God, David asked for a plan of attack from God, who was his real commander-in-chief.  God so mightily moved, David declared it was like water bursting through the wall of a dam which quickly brought destruction to everything that was in its way.
By acting in perfect obedience, David succeeded where King Saul had failed and totally defeated the Philistines.  Obedience to God's instructions or Word was David's key to experiencing the miraculous intervention of God.
Obedience and Praise are THE KEYS TO YOUR BREAKTHROUGH.  Make a conscious decision to spend time with God in daily fellowship and praise.  Then you'll be able to see the mighty hand of God move in your midst.
While salvation is free, it didn't come cheap!  It cost God the very best He had to offer, HIS SON!   Now, Christ is able to bring salvation, deliverance and grace right into your midst, but give Him your undivided attention.  In doing so you're showing the devil that you're Not defeated and that you're trusting Jesus and moving forward.
Romans 8:31 NIV then says, "What, then, shall we say in response to these things? If God is for us, who can be against us?
If The Holy Spirit of God is engaged to bring us through, which of our enemies can withstand His awesome Word and mighty outstretched hand?   NONE CAN!!!
THEREFORE, HAVE FAITH IN GOD!