Today's Daily devotional from Pastor Andrew Bills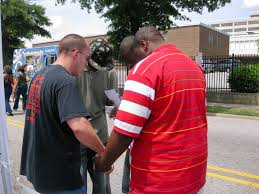 "Are You Sharing What Great Things God Has Done In Your Life?"
The sharing of one's personal testimony always will have a great impact upon the hearts and minds of listeners.  Relating your tribulations, testifying about His moving in your midst, and bearing witness of His delivering grace through Christ will never return void or fall to the ground.  Under the influence of The Holy Spirit, it will always result in a celebration.
So, no matter how difficult things may be appearing, there should be no room for "uncertainty" or complaining once you begin to recount God's blessings and see how far you have come.
Such was the case with the Apostles Paul and Barnabas after they had returned from their two year first missionary journey.
Acts 14:27 NLT says, "Upon arriving in Antioch, they called the church together and reported everything God had done through them and how he had opened the door of faith to the Gentiles, too."
Despite all the dangerous experiences and demonic encounters, the power and the grace of God had produced many new converts and established new churches from them preaching the Gospel. 
They had dealt with sorcerers, the ignorance, idolatry and misery of the various citizens, but Christ had strengthened them to declare the message of the power of His resurrection and faith in His name.  They experienced great persecutions and suffering, including the stoning and death of the Apostle Paul, but miraculous signs and wonders were wrought by The Holy Spirit of God and they were strengthened to continue preaching.
Then after traveling through all the cities visited, while it still remained dangerous for them, for the sake of all the souls of the newly converted souls, they returned back to each of all these cities as they journeyed back to their place of origin.
Just like in our lives today, without God's divine intervention and power, our experiences will always appear ineffective.  But, we too can know, just like Paul and Barnabas, God is faithful to His word and will perform great works as we testify of His goodness, attest to His saving grace and affirm the power of His indwelling Holy Spirit.
You are called to bear witness, for the best evidence that you can furnish is your changed life through Jesus Christ.  Will you speak up and allow your personal testimony to bear witness to the resurrection power of the Living Christ?