Today's Daily Devotional from Pastor Andrew Bills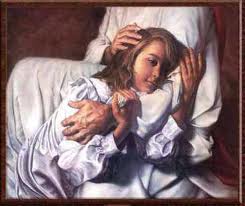 "Are You Resting In The Lord's Divine Arms?"
Even during the very worst of times, the spiritual lives of those who trust The Lord are divinely watched over and protected by The Grace of our Lord. 
Though at times it may physically appear that you've been cast down, you shall not be destroyed by the adverse temptations, vicious attacks, negative situations or painful conditions that have been orchestrated and sent by the forces of darkness.
God's Word and Grace have given and still promises today's  believers great security in our lives as we go through the midst of dangers, trials and tribulations. 
Psalm 46: 1 wonderfully reminds us that, "God is our refuge and strength, A very present help in trouble."
How wonderful it is to know that His gracious and glorious presence "MAKES THE DIFFERENCE" as we go through the toughest of times. 
Whether you're experiencing painful sickness, heart-wrenching financial lack, dealing with abusiveness, or any other type of tormenting anguish that's trying your soul, it's wonderful to know that "GOD IS OUR HELP."
Through Jesus Christ, we have been made more than conquerors against all attacking enemies sent by Satan's hand.  We have God's Divine Assurance that HE IS WITH US, THAT HE WILL NEVER LEAVE US, NEVER FORSAKE US AND HE WILL BE OUR DAILY STRENGTH AND CONSTANT FRIEND.
Can we find one more greater than Him?  Run to Him for comfort and safety.  Take shelter under His Wings.  Allow Him to be your fortress or high tower of protection.  When you're feeling weak, defenseless, tired and overwhelmed allow Him to be your source of strength.   When you're feeling confused and uncertain, permit Him to give you wisdom from on high. 
For HE IS a very present help, which means HE IS our aid, assistance, helper, savior, deliverer, healer, provider, way-maker, teacher and much more. 
Through Him, many battles have been won, the weak have been made strong, the sick have been healed, closed doors have been opened, needs have been supplied and met, as His amazing Grace and loving presence have been the source of many blessings and victorious outcomes.
Our Lord has a proven, faithful and lengthy history of being there and making the difference in the lives of believers when facing troubling anxiety or going through heart breaking sorrow.  Realize that you have not been brought this far on your own nor to be left alone.
Therefore, rely on Him and have faith in Christ Jesus.