Today's Daily Devotional from Pastor Andrew Bills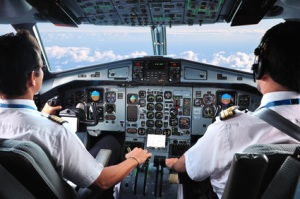 "Are You Really Trusting In The Lord?"
A story was reported about a group of passengers on an airplane that suddenly entered an area of severe turbulence. The passengers were terrified, some screamed while others were visibly shaken.
Then one of the badly shaken passengers noticed a little girl, sitting very contently as she continued playing with her toys and looking at her books. She clearly showed no sign of fear. When asked why she wasn't afraid during the terrible turbulence she simply replied, "Because my daddy is the pilot and he's in full control."
Trusting The Lord always depends upon your personal relationship with Him.  If a trustworthy family member tells you that they will pick you up at the airport at 9pm, you know that they will be there because you trust them because of your personal relationship with them.
If a total stranger approaches you in the market and says if you loan him a $100 and he will pay you back on next week, because you lack relationship, you can't put your trust in them.
In Isaiah 41:10 NIV God Says, "Fear not, for I am with you, do not be dismayed, for I am your God. I will strengthen you and help you, and I will uphold you with my righteous right hand."
While this promise from our Lord was initially addressed to the exiled Jews during their long and painful captivity in Babylon, it's also addressed to His people today who are going through any adverse, negative and painful circumstances or conditions.
God made it clear before, and Is once again making it very plain, "Fear Not, For I AM With Thee." HE IS the sole reason that we shouldn't ever be fearful. Romans 8:31 says, "If God be for us, who can be against us?" What higher consolation can you ever desire or have than the assurance of Him being our Heavenly Father and a protector, counselor, and guide to us during times of great confusion and difficulty.
There is no higher honor in life than to enter into His family and be permitted to call the Creator and The Most High God "Father", and have the Lord of the universe as our Eternal Friend.
"Be not dismayed" means that whenever a state of alarm or danger comes, those that trust and look to Him can be calm because of our peace within and our faith in His Words.
We are then given the reason why we shouldn't be afraid, "For I AM Your God." Our Heavenly Father has declared that "I am able to preserve, strengthen, keep and bless you." The God of Heaven is our God and is our source and power, and that power has been pledged for the protection of all that come to Him.
Furthermore God said, "I will uphold you with the right hand of my righteousness." Our Heavenly Father has also declared that, "I will enable you to bear all your trials with my faithful right hand." We can rely on Our Lord and the power of His Might.
There is no greater security than believing and knowing that you're safe in the hands of The Almighty and Living God.
THEREFORE, HAVE FAITH IN GOD!