Today's Daily Devotional from Pastor Andrew Bills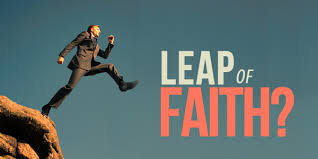 "Are You Ready To Leap Into Action?"
Can you think of anything so valuable or worthwhile that is keeping you from either immediately coming to Christ or doing His Will? 
In Mark 10:46-52 we have the wonderful account of Bartimeus, a blind and improvised beggar who after hearing of Jesus and His miracles, learned that He was passing by and hoped to recover his eyesight.
Verses 49-52 NIV says:  Jesus stopped and said, "Call him." So they called to the blind man, "Cheer up! On your feet! He's calling you."  Throwing his cloak aside, he jumped to his feet and came to Jesus. "What do you want me to do for you?" Jesus asked him. The blind man said, "Rabbi, I want to see."  "Go," said Jesus, "your faith has healed you." Immediately he received his sight and followed Jesus along the road.
In reading verse 50, I began to pause and wonder why that verse didn't just say, "And he came to Jesus."  
The Apostle Peter was an eyewitness to this event, and in his recalling this story to Mark to record it down, placed great emphasis on this blind man's immediate action of throwing off his outer garment and the speed that he came to Jesus.
In his excitement of being noticed and called by Jesus, with full joy at the prospect of being healed, blind Bartimeus quickly threw off any restriction, impediment, bondage, entanglement or weight that would prevent him from running to Jesus.
Not only should this be the manner in which a sinner first comes to Jesus Christ but in every aspect of your life thereafter, from conversion until our translation into eternity, you should continue to put down, cast away or throw aside any weight that would prevent you from walking in obedience to Christ. 
Hebrews 12: 1 says, "Therefore, since we are surrounded by such a great cloud of witnesses, let us throw off everything that hinders and the sin that so easily entangles. And let us run with perseverance the race marked out for us."
Just like he cast his outer garment away, you too must "put off the old man" which represents your former conversation,  life-style, mentality and fleshly walk.  Then answer to the calling of The Holy God, repent sin, renounce Satan and the works of the flesh,  be robed in the righteousness of Jesus Christ, walk in holiness, be filled and led by The Holy Spirit.
You Are Being Summoned By The Holy Spirit of God!   Whatever's a hindrance to your surrender, fellowship, work and service to The Lord, whatever's restraining your heart, a yoke of bondage or preventing your worship, lay it aside or cast it down.  Don't allow anything that's useless, unprofitable or full of pride or vain glory to keep your from Christ or doing God's will.
Are You Ready To Spring Into Action, Draw Closer To God And Surrender To His Will?  
Delays can have long lasting or devastating effects and serious consequences as you're being sought, drawn or led by The Holy Spirit of God.  
Is there really anything worth missing out on the fellowship and blessings of Christ Jesus?
THEREFORE, HAVE FAITH IN GOD!