Today's Daily Devotional from Pastor Andrew Bills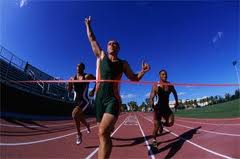 "Are You Maintaining God's Course Of Action Or Just Trying To Survive The Season?"
Problems don't change who you are, they reveal what you are. So regardless if you find yourself in the severe winter storm or blistering summer heat of life, you must adopt the mentality of an athlete and continue to persevere on your journey.  
Hebrews 12:1 NIV says, "Therefore, since we are surrounded by such a great cloud of witnesses, let us throw off everything that hinders and the sin that so easily entangles, and let us run with perseverance the race marked out for us."
While observing the ancient Grecian games, which exercises or events consisted of running, wrestling, hand to hand combat and fighting, The Apostle Paul presented the allusion of the athletes in these games to believers on their Christian Journey.
In view of these events, the athletes had to take an oath that they had been in ten months of disciplined training and wouldn't violate any of the regulations. Then they lived enduring rigorous exercise while experiencing painful exertion through cold and heat. Then they followed a strict diet of refraining from wine and certain foods, and lived a life of self-denial, so that nothing could be left undone and prevent the winning of the crown.
Then once the events began, great multitude of spectators usually occupied the circular seats in the amphitheater, from which they could easily observe all of the athletic events and cheer on their champions. In like manner, he revealed that the "stadium or our race" is our world and that we should be encouraged by the example of the multitudes who have run the same race before us, and who are possibly now looking down upon us from heaven, observing our conduct and seeing our conflicts, are cheering us on to victory.
But then The Apostle places the Christian race in contrast to the games; in that only one can only receive the prize, though all participated. But in the Christian race, all that run will receive the prize. So we are to run with purpose, not aimlessly, with such perseverance in the heavenly course to please God and get to heaven just like others do to obtain their earthly prize.
Now in order to diligently run, you are further instructed to put aside any type of weight or encumbrances that would slow you down or keep you from finishing or winning the race. There's always the present danger of yielding to fleshly desires, pampering the body, fulfilling its lusts or satisfying its appetites, dangers of pride, vanity, worldliness, or in having an ungovernable temper, a corrupt imagination, an insensible heart, or an unholy relationship. Or whatever else it could be, we are advised and encouraged to lay it aside or cast it down.
So you are to remove anything which can obstruct your progress and keep these dangers from impeding, overburdening, preventing, controlling or weighting you down so that you may win the divine prize.
THEREFORE, HAVE FAITH IN GOD!