Today's Daily Devotional from Pastor Andrew Bills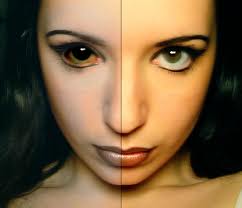 "Are You Being Tempted  By  The Beautiful Side Of Evil?"
There's a struggle going on within us, that's a greater battle than any historic war that has ever been fought.  And in this warfare, there are two voices in our lives which are daily clamoring for your attention.
One is the still small voice of The Holy Spirit of God, who's always instructing you, according to Colossians 3:2 NASB, to "Set your mind on the things above, not on the things that are on earth." As you follow this voice, you will find peace, love, joy, and contentment.
If you remain attuned to Him, you'll be reminded of who you are in Christ and who Christ is within you.  And you'll learn how to faithfully act or respond in various situations in life and continue on your journey, pleasing God.
But the other voice is from the greatest deceiver, the evil one – Satan – The Devil, who's always presenting "a beautiful side of evil."  He desires to kill, steal and destroy and wants to lure you down a pathway that will always end in sin, misery, shame, darkness, defeat, and even death.
While toying with your emotions, he suggests things that play on your insecurities, inhibitions, frailties, intimate desires, deepest fears and past failures in life.  He will entice you to yearn for and seek after things that are forbidden in scripture, things that will cause you to violate the word of God and act in selfish, unproductive and ungodly ways.
In James 1:15 God says, "Then when lust has conceived, it gives birth to sin; and when sin is accomplished, it brings forth death."
This simply means that the things that may seem extremely wonderful, enticing, attractive and even so easy to want, could kill your spirit and your life. His suggestions or invitations that cause you to yield to his temptations ALWAYS result in paying too high of a price and you experiencing untold negative consequences for your actions.  
Sin may seem like a small matter in its planning stage or commencement, but as it grows it will consume you beyond all calculation.  As a Christian, you must seek for ways  NOT  to become blinded by this deceive.  You must learn to rise above your circumstances and yield yourself to God instead of Satan's traps.
In conclusion, please remember the insightful words for our Lord Jesus Christ from Mark 14:38 where He said, "Watch and pray so that you will not fall into temptation. For the spirit is indeed willing, but the body is weak."
THEREFORE, HAVE FAITH IN GOD!