Today's Daily Devotional from Pastor Andrew Bills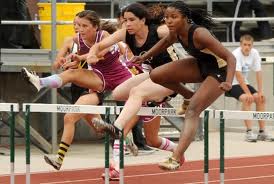 "Hurdles, How Should They Be Viewed?"
Hurdles, we all shall face them, but regardless whether they appear as small bumps in the road or large gaping obstacles, BELIEVERS MUST LEARN TO VIEW THEM as barriers that must be crossed.  Then once leaped over, we should forever remember them as an added testimony or a trophy in our life's experience.
In retrospect, some of the faced hurdles that I originally thought would definitely kill me only increased my faith and stretched or expanded me as I trusted God and continued to press forward.
In Isaiah 40:31 NIV God says "but those who trust in the LORD will renew their strength. They will soar on wings like eagles; they will run and not grow weary, they will walk and not be faint."
Though The Holy Spirit of God may remain invisible or appear to be silent, He renews, re-invigorates, strengthens and sustains us at times when we feel we're too tired to run, walk, crawl or even carry on. This verse reveals that God created us to be resilient, but only if we rely on Him as we run forward.
Just as a good long distance runner must steady his pace as he moves his body with speed, he must control his breathing by remaining calm and focused as he continues on his journey. Then, just like this athlete, you must keep your head lifted up, back straight, get rid of fear, not worry about the road ahead, feel the wind beneath your wings and soar beyond your expectations.
This passage reveals that you are to wait for his help and expect your deliverance through Christ. Now, waiting doesn't imply inactivity or lack of personal exertion.  No it only implies to trust in our salvation, through Him.
The Hebrew word means to change, to alter, to revive, to renew, to cause to flourish again, to increase, and to be restored. It means that the people of God who trust in him shall become strong in faith, able to contend with their spiritual foes, to gain the victory over their sins, and to perform their Christian duties despite the trials in life, all without complaining, fainting or surrendering.
Like fresh feathers on a molting eagle, you shall be renewed as if experiencing youthfulness again,and you will rise and ascend to new heights or elevations, throughout your communion with God.
Remember, if you go forward in your own strength you shall faint and utterly fall. But as you seek His face and walk in His Grace, you shall OVERCOME, RISE ABOVE AND GO BEYOND all the difficulties you shall face, as you place your confidence in The Lord Jesus Christ.
THEREFORE, HAVE FAITH IN GOD!